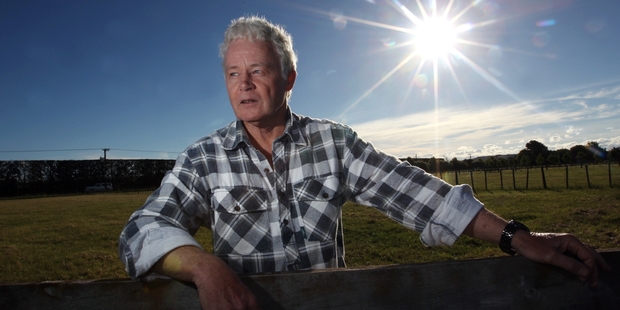 Lifestyle block owner Neal Absalom is reeling after being hit by sheep slaughterers and rustlers twice in the past month in incidents he describes as "gates knocked off hinges and blood everywhere".
He and wife Vicky have lived on the block off Meeanee Rd since 1997 and apart from a dog mauling attack about 15 years ago which left about a dozen of their sheep dead, the recent incidents were the first time rustlers had gone onto the property to get at his stock.
"I was surprised they came back so soon after the first time," he said, adding he had no doubts the same people were responsible.
They lost five ewes, three of which were in-lamb, on the morning of October 17.
The intruders had herded eight together and slit the throats of four of them - eventually making off with just one.
Mr Absalom suspects the rustlers were "spooked" by lights that went on in the house about 4am when his wife got up after hearing noises.
She could see sheep sitting in one paddock so thought everything was alright - but when she got up to go to the gym at 5.30am she spotted sheep which appeared to be a strange colour. It turned out to be the blood from the four which had been slaughtered and which had sprayed onto them before they ran off.
Mr Absalom said when he disposed of the dead sheep he was told by a man who had worked in the freezing works industry that it appeared the people who did it had slaughterhouse skills.
Then last Wednesday night the rustlers returned.
The couple had put their sheep into a back paddock further back from the road but that did not dissuade them.
Flattened grass indicated they herded several lambs through at least three paddocks into a confined yard area and tied their legs together before dragging them out. Five lambs were taken.
"These people knew where all the yards were and the gates. They must have been sussing the place out at some time."
Mr Absalom said in the wake of a house burglary about three years ago when a television and other items were taken they had installed cameras.
They had picked up the headlights of a vehicle at the end of the driveway on both occasions but it was too far away to get a registration number. They had since beefed up security by installing locks and chains on what Mr Absalom called "critical" gates to prevent people getting into them to herd sheep out.
He said they only carried about 40 sheep and all up they had lost about $1100 of stock in the strikes.
Taradale Constable Pete Gimblett described the thefts as "very brazen" given they were from paddocks which were not especially isolated from the houses around them. He appealed for any sightings of suspicious vehicle movements in the Meeanee area over the past few weeks and any information about the incidents.
People can call him at Napier Police on 831 0700 or leave it anonymously on Crimestoppers 0800 555 111.