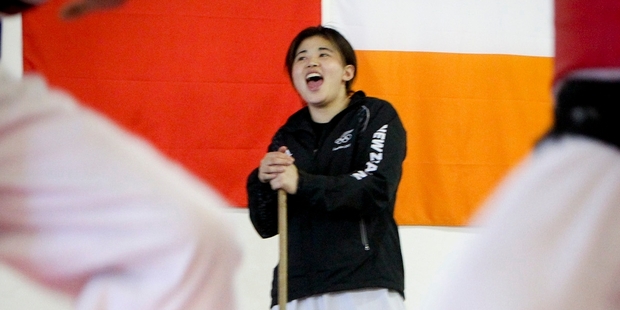 THE MIND is certainly willing but will her body stand up to the rigors of the daily routine leading up to the Rio Olympics in 2016?
Taekwondo exponent Robin Cheong pauses, stares at the floor of the Bay City sejong in Hastings for a few seconds before breaking into a smile.
"I think about it but then I realise I know what I have to go through for four years," says the two-time Olympian from Auckland.
Cheong was here last weekend to conduct clinics for 6-year-olds to teenagers at the Hastings dojang of Master Camille Pruckmuller.
The session also helped raise $200 for Bay City member Tanielu Pio, 15, who is going to the Junior World Championship in Taipei, Taiwan, in March next year.
The Hastings Boys' High School pupil will become the second fighter representing Bay City after Thomas Oh competed at the Senior World Championship in Mexico in July this year.
Pruckmuller, who went to watch Oh, returned to implement a plan here on what she sponged off the event.
Cheong says Pio should win one or two fights at the juniors but won't win a medal.
"No one from New Zealand will be even near it, to be realistic, but from the juniors he'll get better," says the 24-year-old who operates a dojang in Brown's Bay.
After competing in the Beijing Games in 2008 and the 2012 London Games, Cheong says other factors also kick in for her in pursuing a third Olympics.
"There's work because there isn't enough money in New Zealand through sport," she says, revealing she can apply for grants provided she performs.
"I have no life. No social life," she says with a laugh.
"There's all that travelling, training, fighting, strict dieting and being under pressure all the time."
Cheong hastens to add it's not just rugby and soccer players who train, adding she puts in six hours a day everyday.
That had rubbed off on Pio who has bumped up his hours to six hours a day, six days a week.
"When I'm not on the mat, I'm having a massage or undergoing rehab and stuff like that."
The South Korean-born arrived in Auckland in 1995 as an 8-year-old with her parents, mother Yeong Sook and father Young Min, and 10-year-old brother Brian.
The family opened a butchery business.
A boxer in Seoul in his heyday, her father drove her to myriad sporting venues to play rugby, soccer, cricket, touch, golf, swimming and athletics.
Her mother ran the butchery while her brother had little interest in sport but is "into soccer".
When Cheong turned 14 she jetted back to a sports college in Seoul to hone her taekwondo skills.
"I really enjoyed it. It was physical and I was good at it," she says, adding realising her Olympic dream fuelled her even more.
It isn't very competitive in New Zealand but that doesn't mean Cheong has it easy.
"New Zealand's at the end of the world so it's hard to make the cut."
Only 15 "tickets" are up for grabs globally to the Olympics.
However, the New Zealand Olympic Committee has to ratify athletes to represent the nation regardless of well they qualify.
New Zealand fighters have another passage through the Oceania, something she did to book a flight to London although after qualifying, niggly injuries flared to affect her performance in the under-75kg grade.
"I had a torn ligament on my right foot which was in a cast so I almost didn't go but they [the taekwondo committee] gave me a choice to go or not," Cheong explains, saying every fighter at the Olympics has stories on injuries.
In her first Olympics, she made top seven.
"In Beijing I lost the bronze medal match. I was disappointed but I was young."
For the third dan black belt "it was just a dream come true to step into the ring".
She is indebted to Master Oh, of Auckland, who has coached her from the start.
"He's made a lot of sacrifices so it was pleasing for him for me to go to the Olympics."
The sport, she feels, is big but not in New Zealand so embracing updated training programmes is vital.
"The set-up in New Zealand is conservative and isn't open to new ideas so it's amazing that Hastings, who are in the middle of nowhere, will have sent two people on to the world stage," says Cheong before running up Te Mata Peak last Sunday.