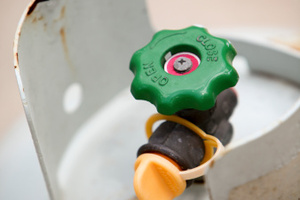 A man has undergone surgery at Hutt Hospital after he suffered serious burns to his face and hands from a gas explosion in his Dannevirke house.
The 33-year-old suffered serious burns to his face and hands after LPG gas canisters exploded in his bedroom this week with enough force to lift the ceiling and blow a window frame into the next door neighbour's yard.
Dannevirke Central Kindergarten, directly in front of the rental property, was also shaken but did not need to be evacuated.
While staff declined to comment, Antoinette Perry wrote online that no one was harmed.
"I would like to reassure everyone that all the children and staff at the kindergarten were safe," she posted. "The head teacher reacted quickly to the explosion and was reassured by the police that the kindergarten did not have to be evacuated."
Tararua Detective Sergeant Shane Brown said the scene was unlike anything he had attended before, adding it was unclear what the man had been doing with the canisters before they exploded.
St John Ambulance personnel transported him to Palmerston North Hospital, but he was later transferred to Hutt Hospital for specialist care. Police completed a scene examination on Wednesday, which turned up four gas cylinders in the bedroom and more in another part of the house.
They said the man's brother had been in the sitting room when he heard a loud "bang".
He had put the victim in the shower and extinguished the fire with a garden hose.