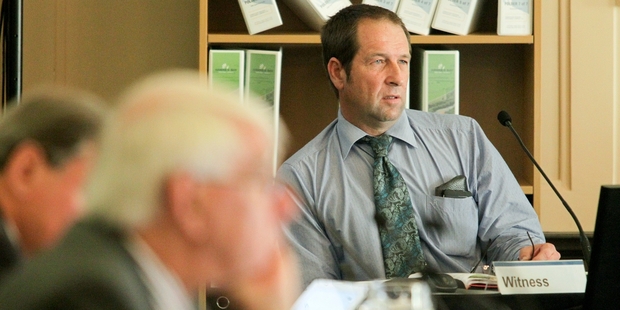 Land that is home to rare, indigenous wildlife will be lost if the Ruataniwha dam is built, the board of inquiry into the proposed project was told yesterday.
But the project would not lead to the extinction of any species because all were found at other locations, the board heard.
The Ruataniwha water storage scheme, including a reservoir, dam and raceway on the upper Makaroro River, would affect about 450 hectares of land northwest of Waipawa and Waipukurau.
Of the area affected, 168ha is covered in indigenous vegetation, ecologist Gerry Kessels said during the fifth day of the hearing into resource consent matters related to the scheme.
The five-member board of inquiry is considering whether to grant the scheme's promoter, Hawke's Bay Regional Council, permission to build the dam and its associated water distribution infrastructure.
The council is also seeking permission to make related changes to the Hawke's Bay Regional Resource Management Plan.
Mr Kessels was engaged by the council's commercial arm, Hawke's Bay Regional Investment Company, to assess the ecological effects of the scheme, which the council is promoting as a solution to the problem of summer water shortages faced by farmers and growers in Central Hawke's Bay.
He said there were 13 plant species classified as either "threatened" or "at risk" found in the area proposed for the reservoir.
The effect of the scheme going ahead would include the loss of a variety of feeding, roosting and breeding habitats for birds, lizards, bats and invertebrates.
The level of loss was significant and needed to be mitigated through the environmental offset plan put together as part of the council's dam proposal, Mr Kessels said.
However he said the effects were "not so great or the habitats so unique from a regional or national perspective that the loss would cause irreversible losses at a regional or national scale".
"Hence mitigation and offsetting is an appropriate approach to ensuing that these effects of habitat loss can be minimised to an acceptable level."
Affected animals include long-tailed bats which roost and forage in the area. Under the offset plan, new riparian zones along the shore of the reservoir would replace their foraging areas. Mr Kessels said he believed the effects on lizards and invertebrates in the area could be minimised under the mitigation and monitoring methods proposed.
"In addition the offset packages will provide secure and relatively pest-free habitats for these animals into the foreseeable future."
One affected invertebrate is the Hawke's Bay tree weka, which is classified as at-risk.
Mr Kessels was asked by Forest and Bird's lawyer, Sally Gepp, if any of the threatened or at-risk species believed to be in the area were at risk of extinction.
"These species are found elsewhere in the country so we have to assume that if they are found [in the dam area] we won't be causing the extinction of the species," he said.