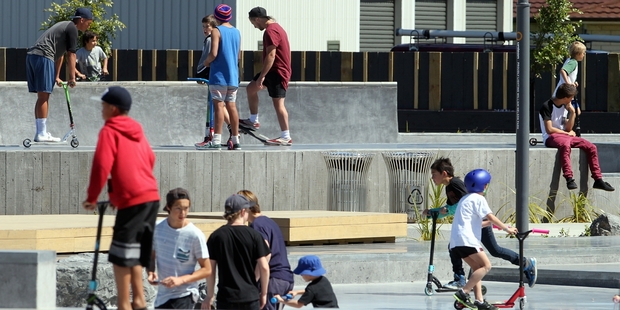 Arrests and skirmishes at Hastings' new skate park have resulted in a police request for it to be fenced.
The fence extension at William Nelson Park was one of two actions taken by Hastings District Council chief executive Ross Mcleod, between the recent declaration of election results and the inaugural council meeting.
In a report to yesterday's council meeting he said police, security guards, councillors and parents were looking for ways to improve safety for users of the popular council skate park.
"These were probably best expressed in a letter to the chief executive from the police on October 13 which advised: 'The Hastings Police, following observations of behaviour both during the day and night would strongly recommend council to extend the pool security fence that currently exists along St Aubyn Street, along all three boundaries'.
"It was apparent from incidents at the park which culminated in arrests for various offences that if the police were to act prior to more serious offences being committed the park would need to be enclosed at which time the police could use the provisions of the Summary Offences Act 1981," Mr Mcleod's report said.
After consultation with Hastings mayor Lawrence Yule, Mr McLeod authorised the construction of the fence at a cost of $53,930.
"It was really about controlling the exit and entry points," Mr Yule told the meeting.
"We had a conversation about other skate parks being open but when we did it, it was found to not be ideal."
Meanwhile, Mr Mcleod also awarded a $1.9 million contract to upgrade Clive Pool to Gemco Construction. The council took back governance for the pool from The Clive War Memorial Swimming Pool Charitable Trust after the trust said it was financially challenged.
"The project timeline was such that the tender needed to be let before the first scheduled Tenders Committee meeting," the report said.
The council set aside $5.7 million to upgrade four of its six aquatic centres, including Waterworld in Flaxmere, Havelock North Village Pool, Clive War Memorial Pool and Frimley Aquatic Centre.