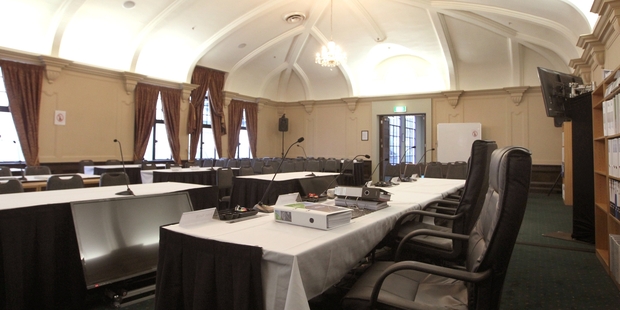 Ahead of the start today of a major inquiry to determine the fate of the proposed Ruataniwha dam, Primary Industries Minister Nathan Guy has reaffirmed the government's strong support for the project.
A five-member board of inquiry, headed by retired High Court judge Justice Lester Chisholm, today begins a resource consent hearing into the Ruataniwha water storage scheme, along with the Tukituki Plan Change.
The hearing opens at the Hawke's Bay Opera House in Hastings this morning. The Opera House will be the venue for most of the board's proceedings, although it will hear some evidence in Waipawa and on Matahiwi Marae near Hastings. The hearing is expected to last until January 21 next year.
The board must decide by April next year whether the $265 million scheme, designed to boost water supplies and farming productivity in Central Hawke's Bay, is allowed to proceed, either as it has been proposed by the Hawke's Bay Regional Council or in an amended form.
Mr Guy told a conference of engineers and dam builders last week that Ruataniwha - "the largest dam build in decades" - was the type of project that represented a new era in irrigation storage.
"The Government strongly supports development of this kind," he told a Society of Large Dams audience in Rotorua on Thursday.
"Increasingly we see their potential in the rural setting to ensure a reliable water supply for our booming primary sector. My message today is that new dam structures will become an essential factor in helping deliver economic growth, especially through irrigated agriculture."
The Ruataniwha proposal has run into a wall of criticism from environmentalists concerned about the impact it will have, including on the Tukituki River catchment.
Mr Guy acknowledged the intensification of farming could have adverse effects on water quality.
"This is why it's so important to carefully manage projects. Any new irrigation projects will have to show they are sustainable, balancing economic and environmental outcomes.
"It is vital that we put in place high standards of infrastructure design, construction and operation. This needs to be backed up with the best possible land management practices."
Boards of inquiry such as the one considering the Ruataniwha project are independent of government but their have been complaints from lobby groups that the process is stacked against those who oppose the dam.
"The process in this case is fundamentally flawed, the timeframes unrealistic, and the administration of it insensitive to constraints on submitters. Our confidence in getting a fair go has been heavily compromised," Gary Taylor, chairman of the Environmental Defence Society, said last month.
But the Environmental Protection Authority, the government agency that administers boards of inquiry under the Resource Management Act, said it did all it could to ensure all those who wanted to have their say were empowered to do so.
"For the Tukituki Catchment Proposal, this has included holding three public information sessions in Hawke's Bay to explain the process and answer questions, and appointing an independent 'friend of submitter' to give people one-on-one support and advice on the process [at no cost to them]," an authority spokeswoman said.
With dozens of submitters lined up to voice concerns over the Ruataniwha projects, one statement from Mr Guy's speech is bound to ring true: "Dams can be emotive subjects for the average New Zealander".