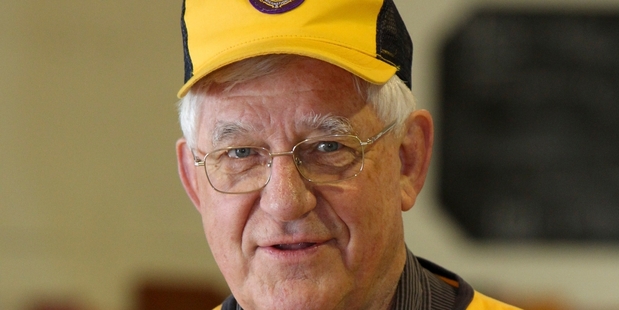 The 25th Lions Book Sale kicks off today and continues tomorrow. Patrick O'Sullivan asked Hastings Host Lions stalwart and book sale convenor Alan Harvey about an occasion that is firmly on the Hawke's Bay calendar.
1 Just how big is the book sale - what are the numbers?
There are more than 100,000 books, magazines and jigsaws available to the 3000-plus people who will attend the 25th Mammoth Book Sale. They are collected, sorted and presented by the 61 members of the Hastings Host Lions club, formed 52 years ago.
All these donated by residents of Hastings district who will be pleased to see close to $40,000 raised. Expenses are closely controlled to allow significant donations. The community has also come to expect this book sale and many rightly feel that by donating or buying books they have helped people in need. Our club is very appreciative of this support and together we make this project work.
2 Where does the money go?
The club is in the process of funding $50,000 for setting up a room at Ronald McDonald House Wellington - this year will see the third instalment of $12,500.
Donations support Brain Injury and Huntington associations, cancer charity Camp Quality, the Blind Foundation and Puppy Support, Spirit of New Zealand, Cranford Hospice, Scouts, Heretaunga Seniors Group Camp and Christchurch earthquake support - they are just some of the organisations that benefit. Hastings Host Lions provides funds for disaster relief which is co-ordinated through Lions International. This includes the Australian bush fires and Philippines typhoon.
3 What is the history of the sale?
Twenty five years ago was the small beginning - $1600 received. Now it is $40,000-plus. It has had many different venues and refining of the organisation - we collect and sort throughout the year and the music segment is now a separate sale on the weekend prior.
4 What is Lions and how is it different from other community groups like Rotary?
Lions is the world's largest service organisation with more than 1.3million members.
The 100-year anniversary will be in 2017. New Zealand has about 10,000 members. Lions has a growing membership with service volunteer members in 206 countries around the world, all proud to serve their communities. Lions are proud to work in the community alongside Rotary which is a similar organisation. Both groups are proud to donate their time and skills to help people in need.
Lions motto is We Serve. We are fortunate to have eight clubs in Hastings and Napier, in addition the new Taradale Lions Club, chartered only a few weeks ago.
5 Why did you join Lions?
When I think back to my joining 40 years ago, I think it was to make friends and belong to a community group. This was the start of my growing involvement with assisting in community projects.
The inspiration came from an early involvement with Rotary when I was awarded Apprentice of the Year by Hastings Rotary Club in 1963. They organised a six-month job experience in Australia. As it turned out in later years, my involvement was with Lions but intensive support for youth has happened ever since, especially with Lions Youth Exchange programmes. I have been privileged to contribute in many ways, including being club president and district governor for the East Coast region from Martinborough to Ruatoria.
The Book Sale has been my responsibility for the last 11 years, during that time the income has grown from $6000 to over $40,000. John Kelbrick, who started the first sale, had great vision and, since then, members like Dougal French and Ian le Page have ensured the continuity of this great project.