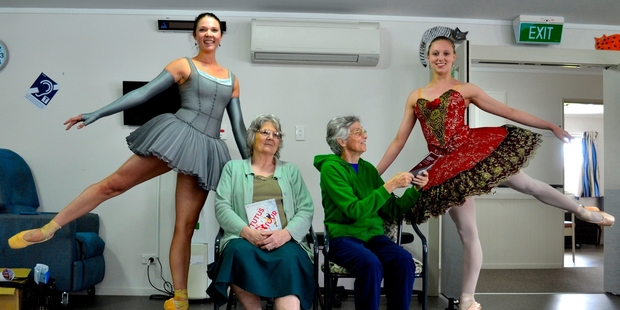 Residents of Glengarry Rest Home and Hospital in Wairoa had a special visit from dancers of the Royal New Zealand Ballet this week, before the company's Tutus on Tour performance at the Wairoa Community Centre.
When Glengarry activities co-ordinator Daryl Whaanga found out the company would be in town, she contacted the RNZB to try to set up a visit and she was delighted when they said yes.
The dancers took along some key costumes from the show, talked with residents and had photos taken.
"We don't get a lot of performers coming to Wairoa and so many of our residents can't get to the shows. They loved it," said Ms Whaanga.
The RNZB splits into two for its biennial tour, with the Wairoa group of dancers performing at the Napier Municipal Theatre on Wednesday and the Hawke's Bay Opera House in Hastings last night. The other half of the company will be performing at the Dannevirke Town Hall and Waipawa Municipal Theatre.
This year's Tutus on Tour, the final season in the RNZB's 60th anniversary year, features six items, Flower Festival at Genzano, the Grande Pas de Deux from Don Quixote, Through to You, the Charlie duet from FrENZy, and two new pieces - a revamped Peter and the Wolf, narrated by Te Radar, and another duet, Little Improvisations.