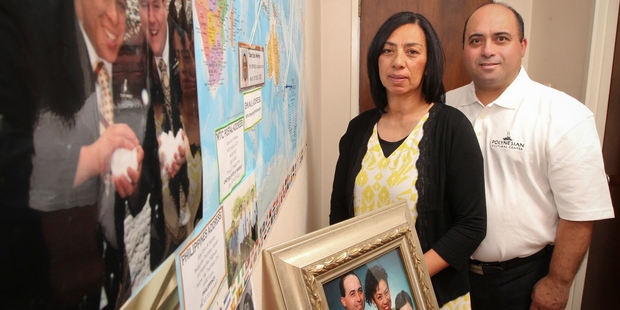 For two days the Morley family of Flaxmere could only worry and pray knowing their son was unaccounted for after devastating Typhoon Haiyan hit the Philippines.
The typhoon ravaged parts of Leyte province where Ezra, 19, had been doing missionary work.
"We were completely stressed - just so worried," Anthony Morley said.
He and his wife Liz, and their other son, 18-year-old Brigham, began hearing of the destruction last Saturday. They quickly realised the youngster was in the killer storm's path as he had begun his two-year mission eight months ago at the province's capital Tacloban.
Tacloban ended up being levelled by the typhoon.
Ezra had also been working at a small town called Tolosa about 23km south of Tacloban which was where the typhoon made its second landfall.
"When we began hearing about what was happening there we started getting more and more worried - and we could not contact him," Mr Morley said.
"The enormity of what was happening was terrible and we knew our son was in that area."
They were, however, able to get in contact with the church's headquarters in Manila and were told that two church members were making their way to the devastated areas to find out what had happened to the missionaries serving there.
The Morleys then received word during the weekend that of the 21 missions set up across the Philippines the church had been able to account for 20 of them.
The one mission they could not account for was the one their son was serving with in Tacloban. "Our hearts just fell - they could not account for him."
Mr Morley said there were five other young men from Hastings and a Napier woman doing missionary work in the wider area but they were not in the path of the typhoon.
All the family could do at that point was pray for Ezra's safety.
It was not until just after 7.30 on Monday night that they received the call they had been praying for.
It was from another member of the Church of Jesus Christ Latter Day Saints serving in the Philippines, Ian Adern, that they got the news "he is healthy and well".
"Just to hear that - there was just happiness - our prayers had been answered."
The family also learned that due to the devastation and emerging health risks the missionaries across the affected region were being taken back to Manila.
Mr Morley said there was no way of getting in touch with their son until then as most communication lines were down.
He said all he had heard was that Ezra was among those who managed to make it to a "strong" chapel which had been spared major damage.
The church, aware of the impending typhoon, had ensured the missionaries had a 72-hour pack of water and food. Given the typhoon risk across that part of the world they had also undergone preparation training programmes.
With a smile, Mr Morley said he also learned that Ezra had wondered why everyone at home was so worried.
"That's him. He is a very resilient sort of character. And knowing him I would say he would not have wanted to leave the area - he would have wanted to stay at his mission and do what he could."
He said dealing with the disaster and seeing the havoc it had brought would have strengthened his son's spirit.
"This will be with him for a long while."
Their son's good physical shape (he completed the IronMaori Triathlon last year) would have also helped him, Mr Morley said.
Having a good voice and enjoying a singalong, the family believe Ezra would have buoyed the spirits of the sheltering people with songs.
"He is a very positive young man and he would have been singing away to perk them up - I'm sure of that," Mr Morley said, adding that Ezra had wanted to take up a mission with the church since he was a little boy.
Both Mr and Mrs Morley had carried out missions in the late 1980s, and Brigham was now looking to follow in all their footsteps by pursuing a two-year mission service.
While they look forward to the day when he returns home in 16 months they are happy for him to return to his mission posting in Tacloban which was where he was assigned by the church, and where he will eventually return to see out his service.
"Although I might not have been so quick to say that a couple of days ago," Mr Morley said.
"But it is his mission to teach people the gospel and to generally work to help them. And now we know he is safe - we are happy."