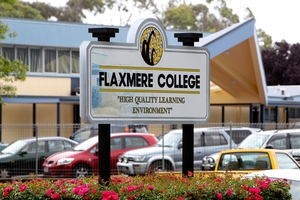 The sudden deaths of two 15-year-old Flaxmere College students have shaken a community to its core, as the tangi for the second victim is held this morning.
The tragic deaths prompted another multi agency meeting yesterday to discuss how best to support students, friends and family.
Tributes and messages of love flowed for the teenagers with posts, videos and photos being shared on Facebook in their memory.
Flaxmere College principal Louise Anaru said the past 10 days had been a difficult time and every effort had been made to take care of those involved.
In a statement released by the college yesterday, Mrs Anaru said the school was "devastated" at the loss of "two of our beautiful, young rangatahi".
"Our thoughts and support go out to the families and friends at this difficult time," the statement read. "Members of the school's crisis response team are supporting the school and community and we have given information to students and parents.
An internal student support centre has been set up at the school and is staffed with trained counsellors and professionals."
The support centre has been made available for all students, their families and staff.
"Parents have been provided with information about reactions following a sudden death and how adults can help young people cope.
"Parents have been asked to contact the school for more information or support and have been provided with information about crisis and support services."
The statement said the school has been well supported by the Ministry of Education, community organisations, parents and whanau.
Acting Hastings Mayor Cynthia Bowers said it was important to focus on bolstering those affected by the loss at this time, rather than buying into speculation. "These are two horrible tragedies. At the moment they are being called sudden deaths. Until the coroner does his job I don't think it is for anyone to guess."
"It's about putting support structures in place at this stage - we need to find a way to support young people better by giving them easy access to care, so they are able to engage with it. We need to go back to the community to find out what we can do differently - let this be a lesson."
Mrs Bowers said the collaboration between local agencies had been one of the positive outcomes early on.
Police, Ministry of Education, Flaxmere College, District Health Board mental health teams, general practitioners, Ngati Kahungunu Iwi, Te Kupenga Hauora, Te Taiwhenua o Heretaunga and Hastings District Council are working together to help prevent self-harm through early detection.
Clinical director of mental health services for Hawke's Bay District Health Board, Dr Simon Shaw encouraged young people to seek help immediately if they or someone close to them needed it.
"We need people to know it's okay to ask for help ... and we need people to know how to get that help," he said.
The best way to prevent self-harm was by dealing with problems as they arose and reaching out before hitting crisis point.
"Some of the most effective prevention methods are strong friendships, healthy and supportive family relationships and an individual's belief in a positive future."
Flaxmere councillor Jacoby Poulain said she fully supported community needs for medium to long term solutions but recognised a time was needed to grieve.
"They [the Flaxmere community] are taking it hard, I can feel it, it is a highly charged time and all the immediate care and attention is with the families."
One of the girls died last Monday and the other died on Saturday. It is believed no foul play is suspected.