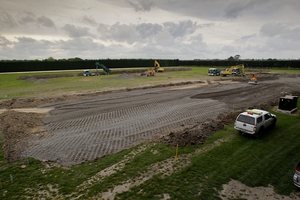 Construction is well under way for the new hockey turfs and redevelopment at Sports Park Hawke's Bay (pictured), with an additional $200,000 of Lion Foundation funding announced.
The additional funds complement the Hawke's Bay Regional Council's $2 million and Hastings District Council's $663,000. A further $737,000 is coming from money raised by the Sports Park Trust.
Sports Park Hawke's Bay chief executive Jock Mackintosh said Higgins Contractors was the main company contracted to complete the project and it was working to strict guidelines to ensure the project was completed by March 2014 - in time for the following month's inaugural international women's hockey tournament.
Once completed, the International Hockey Federation-certified venue will include TV-grade lighting capabilities, a full sized hockey turf and practice half-turf, 750 seats and more.
The annual hockey tournament was announced last month and comprises a 10-year international women's hockey tournament at the venue. The tournament will feature the women's Black Sticks, as well as Argentina, Australia, China and Korea, with another country yet to be announced.