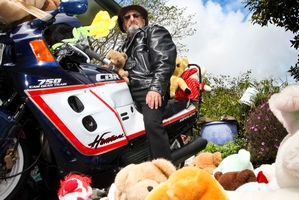 Collecting teddy bears for children who might otherwise go without presents under the Christmas tree, is spreading a warm and fuzzy feeling among Hawke's Bay Motorcycle Club members, who are humbled by people's generosity.
The annual Twin City Toy Drive is off to a great start with hundreds of stuffed animals ready to be delivered to Birthright, a charity which works with children and their families.
"The numbers are up, we have already got a bulk stock of teddies, it's nice to know so many people are donating," club member Harry (Aussie) Bryan said.
"Tomorrow we will jump on our bikes with two or three [bears], for the 27th annual twin city run."
People are encouraged to join the motorcyclists, who will start their journey at Stortford Lodge in Plunket St, Hastings, from 11am tomorrow.
After a casual ride through Hastings, Havelock North, Clive and Napier, the two-wheeled fleet will continue to Anderson Park in Greenmeadows where the public are invited to meet them for a BBQ and chat about their bikes or to hand over any toys for the appeal.
They will then return to their clubrooms at Mangaroa at 1pm, where people are once again invited to join them.
"It's worth it for the look on the children's faces when you give them a teddy bear."
Anyone wanting to donate but who can't make it tomorrow, can call Aussie on (06) 870 8928 by the end of today.