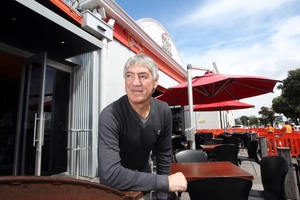 The future for Shed 2, one of Napier's most acclaimed and historic seafront restaurant and bars, has gone into "re-evaluation" mode, owner and manager Dennis Buckley says.
A huge leasehold increase from $2000 a year to $40,000 has hit the business hard - a business Mr Buckley said he took big risks to finance and develop back in 1995.
"It is going to be an interesting year ahead," he said while compiling figures and doing the sums of just what lies in store.
It is likely to result in a couple of summer jobs going and, at worst, having the site "broken up" into four or five smaller leased-out bars or restaurants.
And any notions of putting a couple of apartments on a second floor to recover some costs is not a goer - it has a historic rating which rules that out.
When the Shed 2 bar opened its doors in 1996, after an extensive refurbishment which saw an old tin and timbered wool store morph into a waterfront drawcard, it set in motion a gradual makeover of the entire West Quay strip.
It had previously been the domain of mainly wool stores on the land side and tied up trawlers on the sea side.
The trawlers remain - adding what diners and strollers reckon is additional ambience, like a miniature San Francisco Fisherman's Wharf, to the restaurants, cafes, bars and businesses which now line the quay front.
Shed 2 was effectively the spark, and retains restored glimpses of a past which trickles back to 1882 when it was Williams & Kettle number 2 wool store.
The transformation worked and it still works, across a slice of the city which has changed dramatically. Mr Buckley has watched the landscape evolve from industrial to a colourful mix of hospitality spots, commercial offices, shops and apartments.
He loves the location, loves to host and entertain guests, but said he was rattled by the reality of now being commercially trapped by the council's leasehold policy, which has seen his 21-year lease blow out big-time. He said there was irony in the fact the council had dubbed the West Quay site of Shed 2 as the city's jewel in the crown.
"Yet we did the developing - we took the risks to do this because when we came here it looked like Alcatraz and the value of the property was very low."
Mr Buckley said a lot of money had gone into developing Shed 2 and he had been intent on retaining the quality of the venue. He knew the lease rise was coming - even 10 years ago he realised that if he could not go freehold they could be in trouble.
Shed 2 was an aberration he added, as the other waterfront sites were freehold.
Council input had effectively been nil, he said, adding the business had been slammed by a 600 per cent rates increase over the years, increased licensing fees and reduced hours.
He saw potential in the West Quay development back when he sparked the Shed 2 development. "We saw where it could go - but from what we're seeing now that won't be realised."
Apart from leasehold issues, which he said stunted job potential and economic growth, things like the carpark the council had declared it would build on land near the Gin Trap had failed to appear. "They promised the park 18 years ago ..."
In terms of expanding his business, Mr Buckley said it had taken five months to get a building permit for his planned Mexi Mama restaurant addition and more than six months to get a deck area approved and organised.
Over the next year, he would evaluate where the business stood and while some people would argue the lease rise after 21 years was to be expected, it came on top of continual rising costs - and while the bars and restaurant drew good numbers during the summer and when major events were staged, it slipped back in winter. He said the waterfront was not a "cash cow" as it needed continual investment and development.
"The council has to work out what they want here - and what we would like is a bit of support."
And what he would like most of all, from a new council that gives him some cause for optimism, is a thorough and intensive review of the leasehold issue.
"Freehold land is important to people, and it creates jobs."
The council's stance is that it will not sell individual properties within its leasehold portfolio - retaining them for the "ongoing benefit" of Napier.
A Statement of Proposal has been released and submissions have been called for in relation to the land policy. Submissions close next Friday - among them will be one from Mr Buckley.