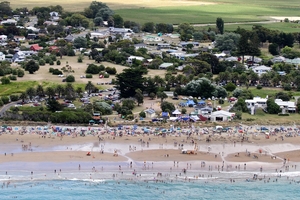 A New Year's Eve liquor ban at Waimarama will be extended by 12 hours to allow police to keep a lid on revellers at the trouble-spot who have begun celebrating earlier in the day.
Hastings District Council's Planning and Regulatory Committee yesterday approved a police request for a temporary extension to the township's liquor ban on December 31. The ban on possessing or drinking alcohol in public will now begin at 6am on New Year's Eve morning, rather than 6pm.
"There are a lot of people who go there just with the intention of drinking," Hawke's Bay Police Operations and Events Planning Sergeant Fred van Duuren told councillors yesterday. He said police would have the resources to enforce the ban, with 13 officers scheduled to be in the town working between 6pm on New Year's Eve and 4am on New Year's Day. The 11-member alcohol reduction squad would also be in the area "from time to time".