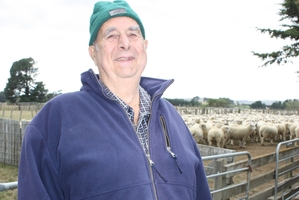 Dannevirke's Roger Ramsden is a type 2 diabetic and he is warning others the choice is theirs whether they avoid the disease or not.
"If people want to carry on drinking soft drinks and eating sweet stuff, they could end up like me," he said.
"This is a serious problem. I like puddings, but know I can't have them now and I've changed what I eat because it's been a wake-up call for me."
Mr Ramsden says he now tucks into fresh fruit salad and has yoghurt on his morning cereal. "I love pavlova but eat fresh fruit salad instead."
Type 2 is the most common form of diabetes. For many people it can be prevented through following a healthy lifestyle.
While type 2 diabetes cannot be cured, it can be managed and people can live active, healthy lives.
Mr Ramsden said he realised something was wrong 12 years ago.
"I'd been helping out at the Woodville Lions Coast to Coast motorcycle bike ride, and must have been on the verge of diabetes but didn't realise it," he said.
"I'd had a bottle of fizz at around 2pm, then by 6pm I didn't feel like eating because I was too tired. When I was driving home I wondered why the road wasn't straight, why the white lines were moving and I couldn't tell where the corners were. I went to the doctor, had tests and was in Hastings Hospital for five days."
"You can live with it but it has changed my life," he said. "Instead of giving children fizzy drinks, parents should give them a bottle of water."
Exercise and losing weight had also been very important, Mr Ramsden said.