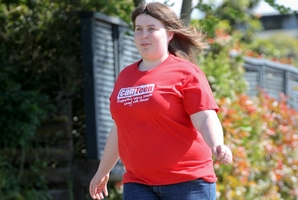 Fourteen-year-old Jenika Reading has taken a slightly different approach to training for the Mitre10 Megawalk this weekend, rollerblading for an hour every day.
Jenika is the secretary at the Hawke's Bay branch of CanTeen and said she is doing the walk to "give back" to the organisation that has supported her through her brother's cancer diagnosis.
Older brother Hayden, 17, was diagnosed with Hodgkin's lymphoma last year and has endured chemotherapy, radiation and a stem cell transplant.
Jenika said it was "horrible" to watch her brother go through treatment but that CanTeen was a great support for her.
"CanTeen has helped me cope by introducing me to very supportive and inspirational people who know and understand what I and many others go through."
She said she had made a lot of friends and was always made to feel welcome by the team at CanTeen.
Her brother was now in remission but mum, Wendy, said he was not yet sure if he'd join in on the walk this Sunday.
She said CanTeen had been "awesome" for both of her children.
"Words just can't express what they have done for Hayden and Jenika, it's such a worthy cause."
It was the second year Jenika had been involved in the walk and said she thought it would be a good thing to do to give back to the organisation.
"It's a really enjoyable day, it's a fun thing to be a part of."
She was planning to take part in the 15km walk starting at Awatoto and said rollerblading has been her training option of choice. "I don't know if you're actually allowed to rollerblade in the walk though."
The walk takes place this Sunday and there are four events to cater to all abilities.
The Mega, a 28km run or walk, begins at Mitre 10 in Hastings and ends at Mitre 10 in Napier.
The Hawke's Bay Today half mega is a 15km run or walk beginning in Awatoto.
The MoreFM short mega is 6.5km and the Mega Meander is a 3.5km walk starting in Ahuriri.
Registrations can be submitted online at www.megawalk.co.nz or in store.
All funds raised through registrations go to CanTeen.
Last year the walk raised $18,000 for the charity but Mitre10 marketing manager Kerry Meehan said they hope to beat that this year.