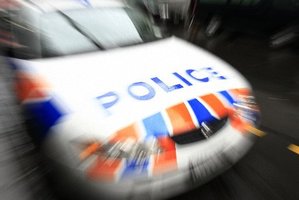 A truck and trailer carrying "hazardous material" closed the Napier-Taupo Rd yesterday for more than eight hours as emergency services attempted to control a dangerous spill and free a trapped driver.
Police said emergency services were called after the truck and trailer unit rolled, while rounding a corner on SH5 just before 7am near Waipunga.
Lakes District assistant area fire manager Hamish Smith said when fire crews arrived they found the truck lying on its side "right next" to the Waipunga River, about 82km from Napier.
"On inspection of the vehicle our crews found a load plan and it was identified by one of the crew that there was hazardous substances on board."
"The worry was the truck was carrying over 163kg of methanol," he said. "Worst case scenario would have been if there was an ignition it would have burst into flames violently, but the methanol does evaporate quickly so the ignition would've had to come quickly."
Fire crews from Napier, Taupo and Rotorua were sent to the scene, as well as the hazardous goods unit from Rotorua. Emergency services removed the containers of ethanol before the truck and trailer could be uprighted by a crane.
"We had to remove all the hazardous material and put it into a recovery drum, that's why the clean up took so long," said Mr Smith.
Police said one of the 200 litre drums had leaked extensively over the road.
Police also said the driver was initially trapped in his cab, but was freed by the fire crews. He received moderate back injuries and was taken to hospital.
Traffic was banked up on the highway throughout the day, with northbound traffic from Napier being turned around at Eskdale. The southbound lane was opened about 12.45pm and police worked to clear the backlog.
NZTA central region media manager Anthony Frith said road was closed just after 7am because both lanes were blocked.
"When there is hazardous goods involved we close the road until emergency services are comfortable for it to be re-opened. In this case it was quite serious."
He said the road was re-opened about 3.30pm using a "stop, go system". Both the NZTA and AA traffic incident maps indicated last night motorists should expect delays with work still ongoing.