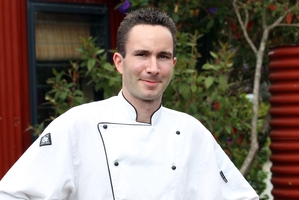 Clearview Estate Winery and Restaurant at Te Awanga is well and truly aboard the region's Food and Wine Classic (F.A.W.C!) summer series - this time adding some mystery to it.
Clearview is set to embrace several events including a winemakers' long lunch table, an evening of wine lies, adding a blush to a picnic on the Parade, and lending culinary skills to a mystery lunch at the Hawke's Bay Farmers' Market.
The Lovacore's Lunch being staged at the market tomorrow will see Clearview chef Peter Hallgarth join culinary forces with visiting celebrity chef Ray McVinnie to cook for a special table of 12 with food collected virtually on the spot at the market.
Until the spread is served up it will remain a mystery - although both Mr Hallgarth and Mr McVinnie said they had something "pretty special" in mind.
The winery kicked off its F.A.W.C! input today by providing its Champion Black Reef Blush for picnic hampers being delivered to guests at the Pimms Picnic on Marine Parade which is being hosted by Napier's Emporium Eatery and Bar.
On Monday Clearview's co-founder and owner Tim Turvey and Trinity Hill's John Hancock will engage in some canny, clever bluffing - and it will be up to the guests at the 'Wine Lies' event being staged at Deliciosa Tapas and Wine Bar in Havelock North to work out which one is telling the truth.
The winery tale tellers will offer up a blind sampling of four reds and four white wines.
They will then deliver detailed and enthusiastic explanations about each wine's origins - except that some of the explanations will not be straight down the line.
It will be up to the guests to work out the facts from the fiction.
Mr Turvey said he and Mr Hancock - along with Deliciosa owner Sarah Watson - had selected the wines from all around the world.
"We've been quite deliberate to choose wines that will challenge our guests and we're sure they won't easily tell - and of course, both of us can spin great stories so they'll have to keep their wits about them," Mr Turvey said with a smile.
"It could be a pinot gris from Alsace against a viognier from Gisborne or syrah from the Priorat and a malbec from Cahor - who knows?"
The Clearview-flavoured event will be next Saturday at the winery for the sold-out Winemaker's Long Lunch Table.
While Mr Hallgarth would source his ingredients from the gardens on site Mr Turvey said he would "raid" his own cellar to provide the best accompanying varieties.