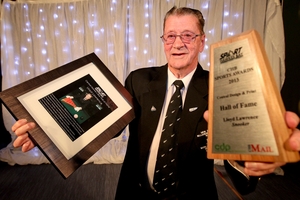 PERSONALITY: Former snooker and billiards referee Lloyd Lawrence was last night inducted into the CHB Sports Hall of Fame. PHOTO/GLENN TAYLOR HBT134225-01
Waipukurau snooker personality Lloyd Lawrence was last night crowned as the second inductee in the CHB Sports Hall of Fame at the Central Hawke's Bay Sports Awards.
Lawrence, 80, retired in 2007 after 23 years of national and international travel as a snooker and billiards referee and was inducted in front of a 330-strong crowd at the AW Parsons Stadium in Waipukurau.
During his career, Lawrence clocked up an average of 40,000km in the family car and ruled on 8188 frames of snooker. Lawrence officiated at five Oceania events and was head referee at nine International Billiards and Snooker Federation (IBSF) world championships and national and North Island championships for 15 years.
A life member of the NZ and Hawke's Bay Billiards and Snooker Associations and the NZ Billiards and Snooker Referees Association, Lawrence also received "emeritus" from the NZ Referees Association as well as "Gold Colours" from the IBSF.
Lawrence started as a first class cricket umpire before he turned to snooker in 1984.
"I couldn't play cricket just like I really can't play billiards or snooker," he said. "Now I realise why my three children hate cricket." Meanwhile, Central Hawke's Bay rower Fiona Bourke is on an award-winning roll.
Last month Bourke's mother, Jay, collected a second consecutive Ngati Kahungunu Senior Sportswoman award on her daughter's behalf and last night Bourke's father, Phil, received the Central Hawke's Bay Sportsperson of the Year Award for his daughter.
Earlier in the evening Bourke won the Senior Female award.
Both awards recognised a successful year for the 25-year-old Olympian. As a member of the NZ women's double scull crew with Zoe Stevenson, Bourke recorded a win in the Sydney leg of the World Cup Series and a second placing in Lucerne.
Bourke pipped Junior Male award winner Regan Gough and Senior Male award winner Pieter Zwart for the premier award. Cyclist Gough took home the Junior Male award for the fourth consecutive year.
Gough was a member of the New Zealand team at this year's junior world track championships in Glasgow. He won two silver medals, one in the team pursuit final and another in the 30km Madison 120 lap race with Alexandra's Liam Aitcheson.
These feats saw Gough named in an extended training squad to prepare for next year's Commonwealth Games.
Golfer Zwart won the Papua New Guinea Open in Port Moresby and also had a host of successes in Queensland. Among them was a tie for first in the two-day Zigga's Moranbah Pro-Am, a second equal in the Homecorp Yeppon Pro Am and a fourth placing on the Queensland Sunshine Tour Order of Merit.
Another of last night's award winners to perform admirably at international level was Masters category winner, triathlete Julie Boshier.
The Hawke's Bay Multisport Club's Legends 60-plus age group champion finished fifth in her 65-69 age group at the ITU world championships in Auckland.
It was a memorable night for the Central Hawke's Bay Rugby and Sports colts side. Coaches Craig Blundell and Paul Yarrall won the Coach award before their team collected the Junior Team award.
This team won the first and second rounds in their Hawke's Bay competition. They were unbeaten during the first round and produced four Hawke's Bay age group representatives.
Former Silver Ferns netballer Temepara Bailey was last night's guest speaker.
Bailey said during her primary school days, she only ever made the E or F grade sides. During her early days she regarded fellow mid-courter Sandra Edge as her role model.
"I remember one day playing in the same team as her and I basically stood there watching her with my mouth wide open. At quarter time our coach came onto the court and asked me when I was going to do something."
Bailey mentioned how in the early days of her career, the Aussie players were quite arrogant, but these days the two teams' players actually talked to each other.
While she is enjoying her commentator role with Sky Television, one of her goals is to start an academy to cater for players aged 20-26.
"You are never too old and players just need the opportunity to get more skills. Look at Irene," she said, referring to veteran Silver Ferns goalshoot Irene van Dyk.