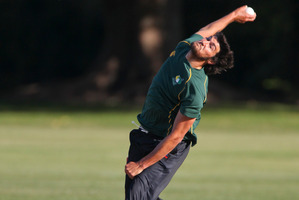 A SCHOOL of thought out there may well believe adopting the attitude of "if it ain't broke, don't fix it" can be the enemy of turbulent thinking.
Not so Devon Hotel Central Districts coach Heinrich Malan as the Stags prepare to preserve their bragging rights to the four-day Plunket Shield supremacy next week.
"We don't have to reinvent the wheel," Malan says before captain Kieran Noema-Barnett briefly swaps the neon HRV Cup Twenty20 strips with his men against the Wellington Firebirds for the long haul at the Hawkins Basin Reserve from Thursday.
"It's just a case of making sure that wheel keeps on turning and becomes a force to be reckoned with throughout the season," says the South African in his maiden New Zealand stint at the helm of CD after Aucklander Alan Hunt last summer coached the Stags to shield glory.
Nevertheless, a key challenge for the Stags will be to cope with a wheel that will spin furiously during the T20 campaign but will need to be consciously be brought down to a more sedate pace during a shield competition interwoven with the explosive abbreviated format.
"It's a general challenge in cricket these days. Batters and cricketers have to be adaptable in switching from one [format] to the next so, no, I don't see it as a problem but more of a challenge."
Malan and the coaching stable have thrown down the gauntlet to the CD players to embrace the change in tempo to ensure their own games flourish.
Every time the cricketers don their whites, it's a case of not what balls you play but which ones you leave.
In the mantra of former CD coach Dermot Reeve, every ball is an event in a game of attrition demanding the patience of a saint which batsmen such as in-form Carl Cachopa, Kruger van Wyk and Jamie How exude.
Although bolshie types such as Noema-Barnett and former flatmate and Black Cap Doug Bracewell have carved up maiden first-class tons with disregard to such shield etiquette.
In a selfishly individual sport where a players lives and dies on his statistical showing, a display of collectiveness and humility is equally imperative and something Malan champions.
"It's also about understanding the way the team wants to play so we can eventually try to be successful," he says, something CD have been investing in.
Avoiding the repeat of two seasons ago, when the Stags' attitude took a hiding after a mediocre T20 campaign, has also been factored in.
Sports psychologist Gary Hermansson, of Palmerston North, has been accessible to the players.
"Blue [Hermansson] has been working with the boys throughout the off season and we've also created a structure where he'll be with us at certain games throughout the season.
"We've created some checkpoints where he can come in to assess things for us and we've also created an environment where he's comfortable in the changing rooms and things like that."
However, Malan doesn't see that as a concern, considering it will be value-added to the previous summer's experience.
To the outsider it may seem like a play of words but CD have consciously adopted a stance to adulterate potent terminology that may prove to become mental hurdles.
"We're not necessarily looking at defending the trophy but we're looking at restarting the process of winning it.
"It's an important mindset for us because sometimes you can create a lot of pressure on yourself by looking to defend," Malan explains before their opening T20 game against the Canterbury Wizards in Christchurch.
"So we'll be taking it game by game to look after the process to put ourselves in a position to play positive cricket."
It also comes down to building on what CD created last season.
"We've got some experienced guys who won the [shield] last year - Kieran, Howser [How] and Kruger - so there's been a lot of communication to the younger guys on how they've got to go about it.
"Building in that Stags way is important so it's something we're very comfortable with."
No doubt, there's anticipation that mental fortitude will rub off on to the one-day Ford Trophy campaign.
Malan finds the schedule better this season with one T20, a four-dayer then two more T20s before knuckling down to four consecutive shield matches.
The one-dayers don't start until March next year.
"Hopefully we can build a bit of momentum by that time because, you know, cricket is all about momentum.
"If you play properly you can get on that wave to build a bit of that momentum."
Last season, some Stags played in all formats so staying free of injuries is vital or else the overall campaign will inevitably be derailed.
"Hopefully, our new trainer, Nick Webb, has done his job in the off season - I'm sure he has - so the boys will be roaring fit.
"We have to make sure we're building on their physical side of things throughout the season and looking after their loads from the bowling point of view.
"If we can keep the boys fit and on the park then we should be running at the front."
The flip side to fitness is to rest players but rotation isn't in the mix.
"We're not necessarily looking at rotating but it'll just be a case of horses for courses."
Balance in the squad comes into play. With spinners and seamers sorted, managing bowlers' workloads should be do-able.
"There might be a time when we're looking to play two spinners and there might be a time when we're looking to play four seamers and one spinner."
Throw in the composition of oppositions and what the wickets on the road are likely to offer and the task can be seemingly harder but Malan assures fans CD have personnel covering those variables.