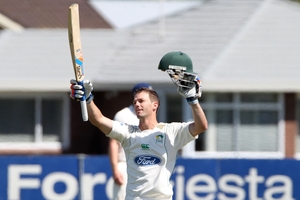 SURE THEY were all disappointed last night - the two domestic cricket teams, their coaching stables and most certainly the fans, not only at the reopened Hagley Park but also those glued to their TV sets.
Regrettably the opening HRV Cup Twenty20 match of the 2013-14 season between the Devon Hotel Central Districts Stags and Canterbury Wizards was abandoned, without a ball bowled, after it rained cats and dogs in Christchurch last night.
But two blokes in the CD camp, Black Cap allrounder Doug Bracewell and NZ A representative Carl Cachopa, gave a thumbs up to the venue, portable lights and outfield but conceded they had no control over the weather.
Said Bracewell: "It is what it is. The boys are training well and were raring to get out there but it's been hosing down."
Added Cachopa: "All the guys are very confident they'll do the job so we'll just focus now on the four-dayer next week."
The Heinrich Malan-coached CD Stags will swap their coloured strips for whites as they begin their Plunket Shield campaign game away against the Wellington Firebirds from Thursday.
They will disperse to their homes today before re-converging after two days to streamline their shield initiatives.
Reflecting on the recent drawn tests with Bangladesh, Taradale Cricket Club player Bracewell expressed a sense of allround dissatisfaction.
"It was pretty frustrating because we didn't get much as a team and I didn't do well as an individual either," said the 23-year-old who spearheaded the New Zealand pace attack last month with Trent Boult, Tim Southee and Neil Wagner but failed to claim 20 wickets as a collective.
An industrious bloke who will defy gravity to hit the deck hard every time captain Brendon McCullum will hand him the ball, Bracewell said the Bangladeshi wickets didn't offer seamers or spinners much respite.
However, he acknowledged the hosts were difficult to eclipse in their own backyard.
"I thought we bowled pretty well and in the right channels but we could have done with some luck," he said, adding it didn't help that the Black Caps dropped a few catches.
"I won't change anything. I'll just keep working hard and keep my body fit," he said, eyeing the domestic campaign while waiting for the international season to begin here with the West Indies and India.
In the tour with NZ A in Sri Lanka, Bracewell had scored his maiden century overseas.
So did Cornwall's Cachopa in Kandy against Sri Lanka A last month.
"It's a great experience to play in the subcontinent. I'm happy with the way I played there for the first time and I can't wait to go back to do it again," the 27-year-old allrounder said.
"A couple more runs would have been nicer but I'll take what I got and build on it for the future."
He lauded coach Grant Bradburn and assistant Bob Carter for their invaluable advice, saying he'd gleaned a lot off them on tour.
"I enjoyed representing New Zealand and playing in an environment where people are so passionate about cricket so I found it quite refreshing," he said, adding the hot, humid, sticky conditions were certainly a test of tourists' character.