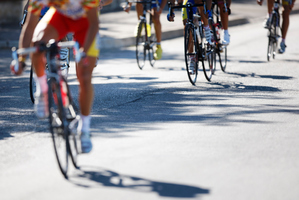 The second of a series of nine triathlon and ironman events to be staged around Napier over the coming months is set to start tomorrow and motorists are being warned to keep an eye out for runners and cyclists.
The IronMaori Quarter Ironman will be around the Pandora Rd and Westshore areas as well as SH2B Expressway, Prebensen Drive, Puketitiri Rd, Puketapu Rd and Swamp Rd. While the course will be signed, coned and marshalled, caution will be required when passing cyclists, especially on the Estuary Bridge, on Puketitiri Rd and when negotiating intersections. Delays are likely to be only minor.
On SH2 between Napier and Gisborne, road maintenance is taking place in the Morere region between Wairoa and Gisborne from next Tuesday and Friday. Minor delays can be expected.
Also on the SH2 stretch north of Napier the construction of four new passing opportunities is under way and delays can be expected at all sites. The first is at the north end of Tangoio Valley near Tangoio Falls Scenic Reserve carpark, the second is at the top of Devils Elbow near the Aropaoanui Rd intersection, the third is 4km north of Tutira and the fourth at Waihua Hill, 17km south of Wairoa.
The Tutira work site involves excavation of the existing roadway to lower a crest curve and motorists will be travelling on a temporary road surface. Extra care will be required.
The Waihua Hill site is single lane and temporary traffic signals are operating for the next few weeks. Delays up to three minutes are expected and motorists are asked to proceed through the site only on a green signal.
Railway crossing repairs will be conducted next Tuesday along the highway at the Awatoto Rd intersection and at the Waitangi Rd intersection on Monday, with minor delays expected. Both side roads will be open to one lane during repairs. and will be managed with traffic controllers.
On SH5 between Napier and Taupo, roading repairs are under way .