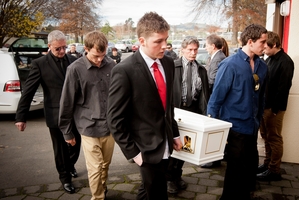 The son of brutally-murdered Havelock North woman Gail Bower no longer has a relationship with his father - her killer - but will always remember his mother.
Matt Christison, 19, the youngest son of Ms Bower and her ex-partner Raymond Shane Christison, yesterday spoke publicly for the first time since his father was sentenced last week to life imprisonment for fatally stabbing his mother.
Ms Bower was found in the back garden of the Havelock North home she shared with Matt after being stabbed to death on June 7 of this year.
Despite the intense loss he and brother, Daniel, 22, have suffered Matt said he had found solace in the support of "outstanding" family and friends.
"I do have days now and then [when I get angry] but it doesn't help anyone in the end," Matt told Hawke's Bay Today.
The teenager gave evidence at a defended facts hearing last week that preceded his father's sentencing.
Details of his mother's death and her fear of something happening to her in the months leading up to her death were divulged to the court during the hearing.
Matt told of how his mother had been extremely cautious following her split with Christison earlier this year.
She had taken out a protection order, a trespass order and installed a camera in the back garden of her Havelock North home.
"She took all the right measures and everyone did all the right things but it was calculated, there's only so much you can do. It was never going to not happen."
The court heard last week that Matt had received text messages from his father in the months before his mother's death threatening that he would rather end up in jail than see Ms Bower move on.
"After I saw the texts it was always a fear," Matt said yesterday. "Mum kind of feared it too. They set alarm bells ringing. I told him that if he wants to do something stupid he better watch himself."
He said he was pretty "p***** off" to be dragged into the court process and that it was difficult to see his father.
"I hate him, that's the nicest way to put it really."
The defended facts hearing came about after Christison would not accept the murder was pre-meditated.
"He can't handle the truth, he can never blame himself. I've never seen him accept responsibility for anything at all."
Despite the ordeal he said it gives him some level of "closure" to have the court proceedings complete.
"It doesn't make it any easier to move on but it's better knowing that side of it has been dealt with."
Matt and his uncle, John Bower, said they were grateful for the support of friends, family and the wider community.
"We really just want to thank the police, Darren Pritchard and his team, victim support, Marie and Russell, everyone at the bank," Mr Bower said.
"The support has been outstanding. I was completely blown away by her funeral, it was one of the biggest I've seen."
"We had flowers turning up at home and anonymous cards," Matt said.
"My friend's parents were amazing, Greg and Ginny Harman. They turned up about 15 minutes after it happened and pretty much homed me and fed me for a couple of months. They were unbelievable, they bent over backwards really."
Matt said it was Ms Harman who suggested they bless the house in the days after Ms Bower's death.
"We couldn't go back there for two or three days, it was all sealed off but we did go back and do a blessing. Ginny suggested it but it was definitely something we were keen to do.
"I only went back once or twice before that to get a few things but I didn't sleep in the house."
The blessing was attended by family and friends, many of whom came from Ms Bower's long-time workplace, ANZ in Havelock North.
"They weren't just her workmates they were her best friends so she really opened up to them about everything.
"I've spoken to them quite a bit and they're all pretty awesome people."
The hearing and the sentencing were attended by a large contingent of family and friends and Mr Bower said it was important for them all to be there.
He said the family were pleased with the sentence.
"Not that it changes anything or brings her back."
He said the wider family were holding up "pretty well".
"We're just lucky mum isn't here because it would have killed her."
John's mother, Linda, died five years ago. She is survived by her husband David who did not make it to the sentencing.
Matt agreed that his situation can often feel overwhelming but said he is attempting to get on with life as best he can.
"Yeah that's probably the word that would sum it up.
"My friends and family have been outstanding though. Sticking to a routine makes it all a bit easier, just getting back to normal life."
"Well as normal as it can be," Mr Bower said.
He said the family would stick together to try to deal with the loss of a beloved mother, sister, daughter and friend.
"It's early days still. It makes you realise how short time can be."
Matt said he hoped his mother would be remembered for her kind and caring nature and always putting others before herself.
One of his favourite memories of her is one he concedes she might not be too proud of.
"She drank with us one night, she got pretty drunk, had a hangover the next day.
"But she loved it, she had the time of her life I think."
Matt has since moved into a flat with friends just minutes from the home he once shared with his mum.
The family have plans to reunite for Christmas.