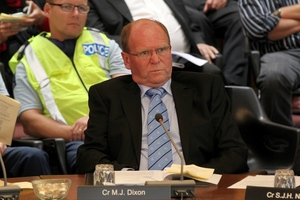 Hastings District councillor Cynthia Bowers has been re-appointed deputy mayor at the council's first meeting since last month's local body elections.
Three new councillors - Malcolm Dixon and Adrienne Pierce representing the Hastings-Havelock North ward, and George Lyons, representing Heretaunga - were among the 14 councillors, along with Mayor Lawrence Yule, sworn in at the meeting.
The swearing-in ceremony was punctuated by moments of humour when two councillors departed from the legally-prescribed text of the declaration they are required to make.
Mr Yule pulled up Flaxmere councillor Henare O'Keefe for an unintended attempt to take over council operations when he mistakenly declared he would faithfully carry out all council duties "imposed by me" rather than "imposed upon me".
Hastings-Havelock North councillor John Roil also departed from the script, declaring that as well as abiding by all relevant local government law, he would also comply with the Building Act.
Last year Mr Roil's company, Cottages NZ, was prosecuted by the council and pleaded guilty to constructing a portable building without the required consent.
Kahuranaki councillor Mick Lester handed Mr Roil a $10 note as he took his seat after he made the additional declaration.
The two men had made a bet before the meeting over whether Mr Roil would go through with the gag.
Getting down to business, councillors voted in a structure for the committees that oversee council operations which has been slightly revised from the previous three-year term.
Mr Yule said while the next year of the council was likely to be overshadowed by two major issues facing Hawke's Bay - the Ruataniwha Dam proposal and possible region-wide council amalgamation - his focus for the council would be on "people" issues. That social development focus had been the motivation for changes to the council's committee structure and allocating councillors to chair and sit on each committee, he said.
The mayor's proposed committee structure was passed with little in the way of challenges from councillors, other than an attempt, led by Mr O'Keefe, to add Hastings-Havelock North councillor Wayne Bradshaw as the seventh member of the social development subcommittee.
Mr O'Keefe, who will chair the subcommittee, said Mr Bradshaw had worked effectively on social development initiatives over the past term of the council and "we need him at the table".
However the council, including Mr Yule, voted 8-7 to stick with the mayor's original six-member appointment to the subcommittee.