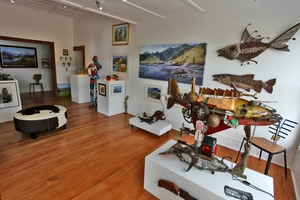 A historic central Hawke's Bay homestead has been given a new lease of life thanks to an artistic couple who have relocated from Woodville.
Photographer Helmut Hirler and painter Sally Maguire open their gallery, Artmosphere, on Saturday with a big exhibition featuring 60 national and international artists.
Hirler and Maguire ran the Artmosphere gallery in Woodville for about three years.
After plenty of short breaks in Hawke's Bay they felt increasingly drawn to move.
Fine-art photography, paintings, glass and clay works, metalwork, sculpture and woodwork feature in the show, which will be open to the public from Sunday.
They have spent many long days and nights over the past year renovating the 350sq m former de Stacpoole homestead which they had shifted in three pieces from a property called Frankfort in Takapau on to a block of land off SH2 on the outskirts of Waipawa.
The building was originally owned by the de Stacpoole family, with connections to the historic Oruawharo Station.
Marion de Stacpoole was the granddaughter of Sydney Johnston, for whom Oruawharo was built, and the de Stacpoole homestead was built on part of the original, huge Oruawharo land holdings.
The land and home was sold to the Silver Fern Farms meat processing company, which offered the house first to Oruawharo owner Peter Harris, then to the Takapau Fire Brigade for practice purposes.
Luckily for Hirler and Maguire that offer was not taken up and it was advertised on TradeMe for removal, where the couple found it and realised it was exactly what they were looking for in terms of a home and gallery.
Hirler, originally from Germany and a photographer for many years, met Maguire seven years ago and moved permanently to New Zealand five years ago.
Maguire has been a fulltime artist for 18 years.
Plans for the gallery include a sculpture garden and a small cafe.
"Once we have set up and have a little break for ourselves, we are hoping to have symposiums with sculptors and workshops, such as with [Wellington artist] Di Conway doing claywork over summer," Maguire says.
Artmosphere, 1307 SH2, Waipawa. Open seven days 10am-5pm during summer; closed Tuesdays and Wednesdays during winter.