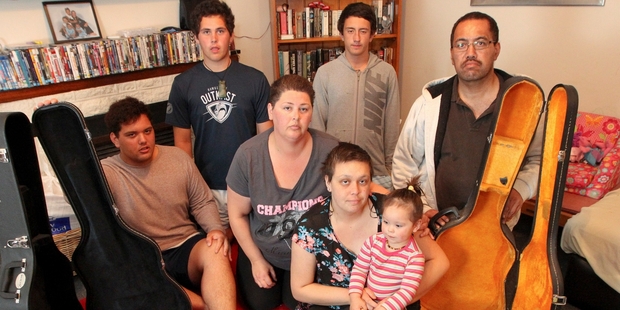 A Hastings family using music to help their 22-year-old daughter and sister fight cancer are angry and feel "paralysed" after burglars stole their instruments.
Mother Tracy Te Meihana, who lost her sister to cancer last year, had given up work to look after her sick daughter, Harmony Te Meihana, after she was diagnosed last Christmas.
She said Harmony's two brothers, Waireke, 17, and Rowe, 15, and her sister's son, Jessy Wilson-Rowe, 16, were "devastated" when they discovered the music they had been using as "counselling" had been stolen on October 5.
The musical equipment, which included a number of electric guitars, amps, speakers, microphones and a loop station was kept in the family's sleepout at the back of the house. The family believes they were burgled on the night of the October 4, while they slept in the house.
Detective Sergeant Jason Crowe said the family, who lived on Grove Rd, were going through a "period of hardship with family illness" and the stolen instruments were what the family used for a form of "release".
Mrs Te Meihana said: "They [burglars] just turned everything upside down, they took the camera that Harmony used to record the boys singing and playing music."
She said what made her "sick" was that the money raised by the boys for cancer charity Canteen was also stolen from their bandanna boxes.
"That made us so angry, how can they steal from kids helping their sick sister? Unfortunately, none of the stuff was insured. We have always had insurance up until this year, but because I'm not working to look after Harmony, and we have became a one-income family, something had to go."
Despite feeling devastated, the boys had been continuing to sing for their ill "best friend".
"The boys are so close to their sister, she has been like a mum as they've grown up," she said. "They could have taken anything else, why did they have to take their music?"