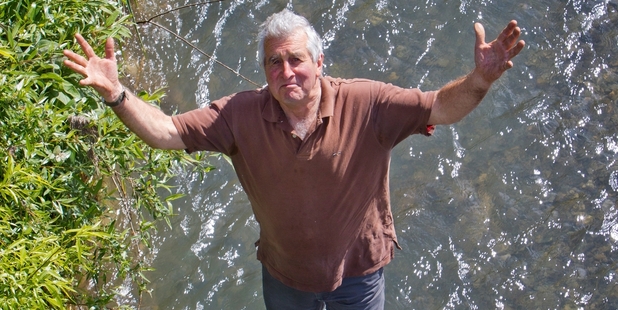 Forest and Bird have reacted to Central Hawke's Bay Councillor Andrew Watts' accusation that it wasn't true to its principles because it does not call for trout to be removed from streams.
During his council election campaign Mr Watts said that Wellington wildlife park Zealandia had removed trout from its upper waterways, with native fish life immediately increasing.
"Which proves trout are just cannibals."
Forest and Bird spokesman Kevin Hackwell said it was not practical to call for their removal and Zealandia was "a unique situation" because the park was at the top end of a stream and had a dam to control access.
"They had to take as many native fish as they could from the location and then not only killed the trout, but all the remaining native fish."
He said Forest and Bird had an arrangement with Fish and Game that trout would not be introduced to new areas.
Fish and Game CEO Bryce Johnson said his organisation had a legislated responsibility to protect trout.
"The interspecific balances were largely struck a long time ago so it is widely recognised that by far the greater threat across New Zealand today is habitat loss, not interspecific competition."
Both Mr Hackwell and Mr Johnson said the Department of Conservation (DOC) had a responsibility to protect indigenous fish and should have included water quality in its submission to the Tukituki Catchment Proposal board of inquiry.
DOC had prepared a 34-page draft report with concerns over the Hawke's Bay Regional Council's plan to manage water quality issues arising from its damming of a Tukituki River tributary and using the water to irrigate.
A much shorter document, which did not deal with water quality, was submitted to the inquiry instead.
Mr Watts, who was an original member of the Water Storage Stakeholders Group for the Proposal, said he was worried the proposal would "slip away - driven by green Taliban".
He said it was ridiculous to prevent "progress" on the grounds of protecting the Tukituki River.
"If you went back to 1840 this river system just wandered over the plain and went wherever it had to when it was in flood.
"It is not a pristine system - it is a totally modified system. It is confined to stop banks, shingle is harvested and raked by big tractors and there are willows from the mountains to the sea."