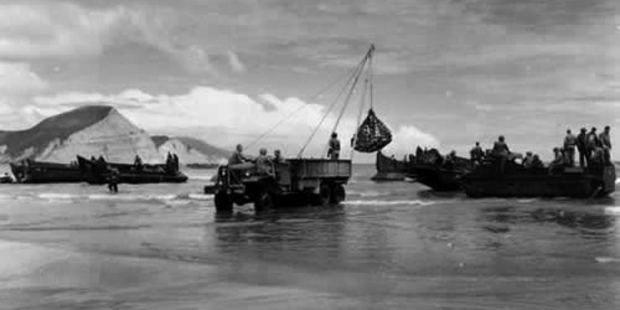 As it did 70 years ago, the coastal township of Mahia became a US military outpost at the weekend.
While the marines who came ashore back in 1943 were sadly not part of the Marines@Mahia Labour Weekend event, as most lost their lives in the following months of war, many of the vehicles they used, and the US ambassador to New Zealand David Huebner, were in attendance, along with representatives of the Royal New Zealand Air Force, the army and the navy.
The first US forces arrived in New Zealand in June, 1943, and part of their preparations for the push through the Pacific was to practise beach landings.
Mahia was chosen as one of the sites for the mock landings and the locals were astonished to discover one morning in October that the US Marine Corps had arrived in the bay.
It was especially memorable for the children of Opoutama School, which overlooked the bay, and that meant the students could observe the fleet of ships and landing craft.
The marines practised for just over a fortnight, landing both men and machines, including tanks and heavy artillery, on to the sandy shores of Mahia Beach.
The troops set up camp in a pine forest on the coast.
One local who also found the arrival of the marines memorable was a keen photographer by the name of James Osler, who had arrived in Wairoa in 1908 and established the well-known Oslers Bakery shortly afterwards.
Fascinated by the American troops and their activities, he began taking photographs but within minutes was arrested by US Military Police who confiscated his camera.
They did not want to risk any of the photos of their assault methods becoming public.
This weekend's military invasion included displays of old military vehicles as well as classic American cars and motorcycles. The New Zealand Military Vehicle Collectors Club organised the event.
Yesterday there was also a memorial ceremony at the Mahia Domain, followed by an unveiling of a plaque by Mr Huebner.