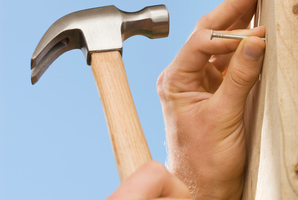 Local builders are bracing for a potential decline in new house builds as the Reserve Bank mortgage lending restrictions kick in.
It could affect local jobs and make life even tougher for first-home buyers, sparking calls for newly built homes to be exempt from the policy.
The Reserve Bank has agreed to re-examine its new policy if data shows they are crimping the supply of new homes.
The bank's confirmation, made last week, came amid reports builders' workloads and building consents had dropped off ahead of home loan restrictions coming into force on October 1.
The Master Builders Federation and building industry group Branz are working with the Reserve Bank to assess the impact of the restrictions on those who are borrowing to build new homes.
Statistics NZ figures show the number of building consents issued in Hawke's Bay dropped from 33 to 22 from July to August this year, compared with 31 in August last year.
Hawke's Bay builder Ian Welch said while he hadn't dealt with any cases personally, it was expected to affect local buyers looking to build.
"I would say that [people] in group house building - it would be affecting them."
Exemption from the restrictions could help stimulate local growth, he said. "The problem has been in Auckland with the house prices shooting up. But the building side of it hasn't been going that well, so exemptions for building would help."
Statistics NZ figures show building consents for new houses appear to be flattening after two years of growth.