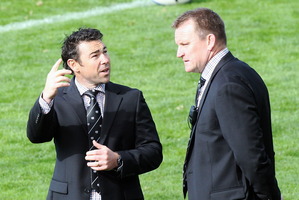 Hawke's Bay Magpies rugby team's head coach Craig Philpott yesterday refused to comment on his future with the side.
"I'll reserve comment on that. Let's wait until after the end-of-season reviews have been done and there will be a press release one way or the other," Philpott said when quizzed on his future in the Bay.
While his troops were pipped 26-25 by the Tasman Makos in Friday night's ITM Cup Championship final in Nelson, it will be a surprise if Philpott and his assistant Danny Lee aren't retained. However, recent history suggests one can't always expect the expected when it comes to Magpies coaches.
Previous coach Peter Russell was axed in October 2011, less than six weeks after the Magpies won the Championship and after he had guided the Magpies to three semifinal finishes in three of his four previous seasons in the Premiership. The bloke Russell replaced, Brendon Ratcliffe, was also axed after a respectable first season in the old Air New Zealand Cup in 2006 and winning the second division in his first season at the helm.
In addition to guiding the Magpies to Friday night's final, Philpott and his assistant, Danny Lee, coached the Magpies to a winning Ranfurly Shield challenge on September 1. That 20-19 win against Otago was the first time the Magpies had tasted victory in a shield match since 1969.
When the Magpies beat Otago in their October 20 semifinal in Dunedin it was their fifth trip to the South Island this season and four of those five games were won. When Philpott's troops beat Premiership round robin winners Wellington 35-24 at McLean Park on October 10 it was the Lions' only loss this season until Saturday night's final against Canterbury.
Despite the win against the Lions and successful shield challenge, Philpott agreed Friday night's display was the Magpies best performance of the season.
"It was a bit of an epic. We played a fair bit of rugby. We dominated the Makos statistically ... the only place we didn't was on the scoreboard," Philpott said before joining manager Neil Weber on barbecue duty at the Magpies end-of-season breakup at Te Awanga Downs yesterday.
Although the Magpies trailed 23-10 at halftime against the Makos, Philpott was confident the visitors would fight back and produce the thrilling finish they did.
"We had experience of that this year. Remember the Northland game," Philpott said referring to the Magpies' 36-31 win on September 15 at Napier's McLean Park after they trailed 23-6 at halftime.
"We got better in each game this season. The best game of the season was the last game. We stuck to our patterns, dominated our opposition and kept improving," Philpott said.
Philpott hinted he was keen to be back again next year when he pointed out how the 2014 squad will benefit from losing just "four or five" of this year's squad. French first five-eighth Regis Lespinas, Japan-bound loosie Karl Lowe, who played his 100th first-class match for the Magpies on Friday night, Scotland-bound loosie Mike Coman and Melbourne Rebels-bound winger Telusa Veainu won't be back.
Prop Max Lahiff, who is also linking up with the Rebels, was also in this category but Philpott said there was a chance Lahiff could return for ITM Cup play after the Super season.
A highlight of yesterday's function was Lowe being presented with a Design Studio-produced photographic montage of his Magpies career.
Award winners were:
Magpies Supporters Club Player of the Year: Brendon O'Connor.
MVP (voted by players and team management): Richard Buckman.
Rookie of the year: Mark Abbott.
Best Back: Ihaia West.
Best Forward: Brendon Edmonds.