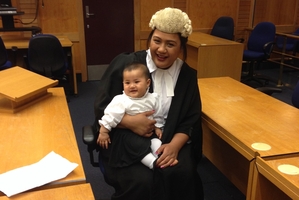 An inspirational principal and some supportive parents have been credited as the driving force behind one local girl who was admitted to the Bar in Napier earlier this week.
It has been a busy year for Janet Vaiusu, 24, of Hastings, who has had a baby, enrolled in postgraduate law study and was admitted to the bar in a private ceremony on Tuesday.
Ms Vaiusu grew up in Flaxmere attending Irongate Primary, Flaxmere College and Hastings Girls' High School before making the move to Hamilton to study law at the University of Waikato.
"The principal at my primary school, Nigel Foster, would always ask me what university I was going to; like whenever I would go to the office to hand in a notice or something he would ask the same thing.
"He used to ask me what I was going to study, too. I was 10 years old - I didn't even know what university was."
She said her parents used to tell her she would grow up to be a lawyer.
"They planted the seed for law, I think. I grew up telling myself that I'd be a lawyer. When I got to Waikato University I didn't really know if I wanted to study law but I made myself believe that I'd be a lawyer in the end."
Ms Vaiusu graduated in April of this year with a law degree and said the support she received growing up has been instrumental in her success.
"My academic ability is average at best, and a huge part of my success was the belief I had in myself, due to support from people around me throughout the years."
She decided she wanted to return to study after about a month at home with her baby daughter.
"I didn't want to be a stay-at-home mum for the rest of the year so I enrolled and got accepted. It's only four hours a week plus study time and I can take my daughter along with me."
On Tuesday Ms Vaiusu was admitted to the Bar.
"I was the only one being admitted, so it was really personal. The judge read out some things about me - it was a really nice, private and personal encounter."
Her partner and baby daughter attended the ceremony along with family and friends.
She hopes to get straight into the work force at the completion of her post-graduate study.
"I'd love to move back to Hawke's Bay but graduate positions can be hard to find."
Ms Vaiusu and her partner, who is also preparing for end-of-year exams, headed back to Hamilton this week.