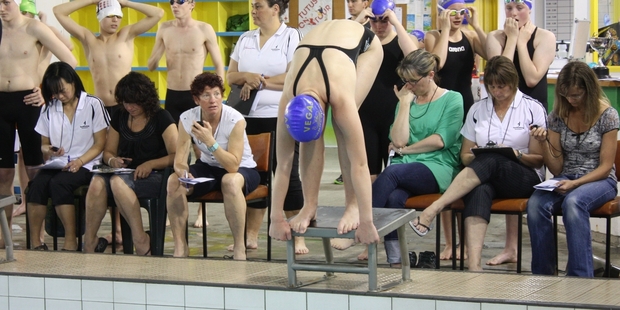 With more than 80 swimmers taking part in a swimming meet in Dannevirke on Sunday, organisers are hoping the event will encourage more young swimmers into the water.
"We had 88 swimmers from clubs in central Hawke's Bay, Dannevirke, Palmerston North, Feilding, Masterton and Carterton taking part and our local contingent did great," Trudi Smith of the Dannevirke Swimming Club said.
"We rewarded swimmers with sponsors prizes if they swam a personal best and all our older swimmers achieved that, along with some of our younger team members too," she said. "Dannevirke came third in the relay, the best they've done for a while and it was cool to see them all doing so well."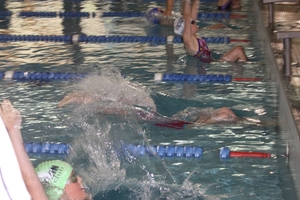 Trudi said it was important to attract new members to the club.
Dannevirke's senior swimmers, Sloane Hutching, Robyn Poole, Phoebe Nelson and Jodi Ferrick, have been leading the way for a long time, but Trudi said she's delighted younger swimmers are now stepping up.
"Phil Beddingfield has qualified for the New Zealand junior championships and it's been a long time since the Dannevirke club has had a boy reach that goal.
"Sloane and Robyn are not long back from the New Zealand short course championships, where Sloane had a couple of top 10 finishes. Sloane and Phoebe have also qualified for the New Zealand Age Group championships next year, while Robyn and Jodie have made the Division 2 times."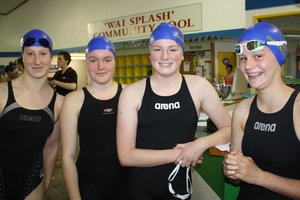 Phoebe also qualified for this year's short course event, but missed out because of her age.
"All our top group of swimmers are fit and train three times a week with Rae Larsen," Trudi said. "Rae is very good at making sure our kids have a balanced life too. We also have a very good relationship with the Palmerston North swimming clubs and our older girls train in the Lido's 50m pool during the summer and swim for Manawatu at championship events.
Sunday's swim meet was a big event for the small Dannevirke club, but Trudi said all the parents helped in making it a success.