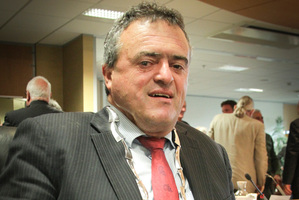 Hawke's Bay Regional Council chairman Fenton Wilson has been re-appointed to the pivotal leadership role for a second term, despite a strong attempt to unseat him by newly elected opponents of the council's water management strategies.
Councillors voted 5-4 yesterday to re-appoint Mr Wilson as chairman, during a packed and at-times tetchy council meeting.
It was the first time the nine-member council had met since this month's local body elections, which saw six new councillors elected, including four endorsed by the Grower Action Group (GAG), a lobby organisation concerned about the council's water policies.
While GAG achieved a clean sweep by getting all four candidates it endorsed elected to the council, GAG-endorsed councillors were unable to secure the one extra vote they needed to have their nominee for chairman, Rick Barker, unseat Mr Wilson from the chairman's role.
In a further blow for the proponents of change on the council, long-serving Councillor Christine Scott was elected deputy chairwoman at yesterday's meeting.
Mr Wilson, Mrs Scott, Debbie Hewitt, Alan Dick and Dave Pipe voted for Mr Wilson as chairman, while Mr Barker, Rex Graham, Tom Belford and Peter Beaven voted for Mr Barker.
Councillors were sworn-in at the start of the meeting, taking an oath declaring they would perform their duties "in the best interests of Hawke's Bay". Yesterday's meeting was packed to overflowing, with more than 100 people in attendance.
The strong interest followed a call from Central Hawke's Bay farming interests, backed by Federated Farmers and Central Hawke's Bay Mayor Peter Butler, for concerned ratepayers to rally at the meeting.
With drizzle falling outside, and a large number of farmers in the public gallery, Mr Wilson quipped that he was "a bit concerned Central Hawke's Bay shuts down when it rains".
He and Mr Barker clashed several times during the meeting, with Mr Barker criticising council operations because he had not received his agenda in the post and Mr Wilson hitting back, accusing him of being pedantic.
Speaking in support of Mr Wilson, former Napier City mayor Alan Dick said the Wairoa Ward representative had the "grit and determination" needed to be chairman.
"Four [of the new councillors] have aligned with an interest group and to date have indicated that their intention is to take over rather than teamwork. I hope that changes."
The council also had to grapple with the Ruataniwha Dam issue and possible amalgamation "which may lead to chaos," Mr Dick said.
Speaking for the GAG-endorsed councillors, Mr Graham said Mr Barker was "a man of immense political and governance experience," which made him the best candidate for chairman.
Mr Wilson told Hawke's Bay Today he was confident he could get the nine councillors working coherently together.
"There's a bit of passion around the table - that's good. You can build something out of a bit of passion," he said.
"There's no 'them' and 'us', there's just 'us', and Hawke's Bay needs to hear that."
Mr Wilson's annual salary as chairman is $109,800. Regional councillors receive a base salary of $46,700.
Mr Barker, a former Tukituki Labour MP, said while he was happy to be endorsed by GAG their support did not mean he was "owned by anybody".
Mr Butler said the strong public turnout demonstrated the high interest shown by Central Hawke's Bay people in regional council matters.
He said the CHB lobby had "got what we wanted" with the election of Mr Wilson and Mrs Scott to the council's leadership roles, despite the counter-lobbying effort by GAG.
Meanwhile, swearing-in ceremonies were held for Wairoa and Tararua district councils this week, with Wairoa Mayor Craig Little appointing Denise Eaglesome-Karekare as deputy mayor.