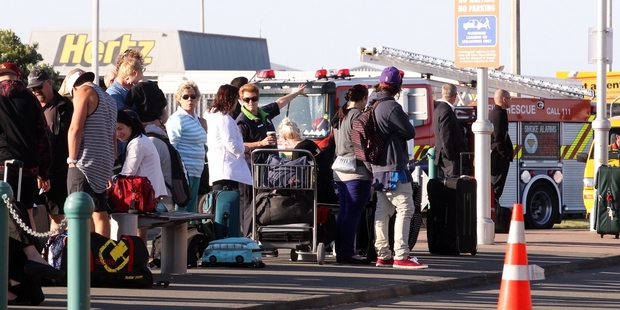 Flight operations at Hawke's Bay Airport were disrupted for a short time yesterday as fire broke out in the terminal roof above Air New Zealand's staff lunchroom.
The Fire Service was alerted by private fire alarm at 6.55am, and crews started to fear the worst as they left their Napier station and saw the smoke from about 1km away.
Station officer Peter Draper said the terminal had been evacuated by the time the two Napier crews arrived.
Airport fire staff were understood to have assisted in the evacuation before the Fire Service crews, using breathing apparatus and with help from a further crew from Hastings, broke into the ceiling and extinguished the fire. They were at the scene about an hour.
Hawke's Bay MPs Chris Tremain and Craig Foss had just boarded an aircraft, fully-booked and awaiting takeoff for Wellington, when they and fellow passengers saw smoke billowing from the northern end of the terminal.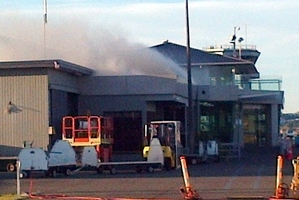 Safety rules meant the flight could not take off and passengers left the aircraft and watched from the tarmac as the Fire Service quickly brought the fire under control.
The flight, scheduled for takeoff at 7am, departed 30 minutes late and there was understood to have been little other disruption to arrivals and departures.
The MPs both tweeted messages and photos, and Mr Tremain told Hawke's Bay Today from Wellington later in the morning: "You could tell it was in the roof. The smoke was coming out under the gutterings and because of the wind it was billowing back over the roof of the building."
Hawke's Bay Airport chief executive officer Nick Story said a fire safety officer had inspected the scene, and the cause of the fire was thought to have been electrical.
With a northwest wind and the tinder-dry condition of the framework in the roof, the fire could have been much worse, he said.
"We were very , very lucky for the Fire Service to be able to confine the fire within that area," he said.
Apart from the residual smell of smoke in the terminal, terminal users wouldn't notice the fire had happened, and damage was confined mainly to the roof of the lunchroom.