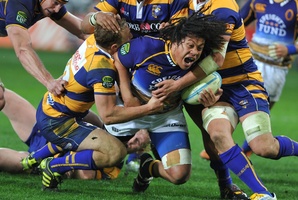 The "Twin Towers" delivered big time for the Hawke's Bay Magpies in yesterday's ITM Cup Championship semifinal win against Otago, helping book a place in the final and a chance at promotion to the premiership.
Michale Allardice produced a player-of-the-match performance in the 29-24 win against the Razorbacks in the Forsyth Barr Stadium, while his flatmate and fellow lock Mark Abbott battled on in admirable fashion to complete the game after rolling his ankle in the 24th minute. The victory booked the Magpies a berth in Friday night's final against the Tasman Makos at Nelson's Trafalgar Park. It appears the Magpies team and supporters are likely to be in for a repeat of last week's uncertain travel and accommodation plans in the countdown to Friday night's final. Last week Magpies manager Neil Weber couldn't finalise travel and accommodation plans for Dunedin until Thursday because of the All Blacks Bledisloe Cup test match against the Wallabies in Dunedin.
They only secured accommodation in Dunedin on Saturday night courtesy of a corporate cancellation.
Hawke's Bay Rugby Union CEO Mike Bishop said yesterday the hotel the Magpies usually stayed at in Nelson had been booked out on both Thursday and Friday nights. "It's holiday weekend and there must be something on in Nelson."
Bishop also said it was probably too late to charter a flight for Magpies supporters. However, he encouraged supporters thinking of making the trip to Nelson on Friday, Hawke's Bay Anniversary Day, to get down there and back the team in their quest for promotion back to the Premiership.
In the past when Magpies fans have been faced with these circumstances it has only made them more determined. It wouldn't be surprising if the inter-island ferries were inundated with Magpies fans in minvans on Thursday night and Friday.
Allardice, who celebrated his 22nd birthday on Saturday, is no stranger to winning in Nelson and is confident the Magpies will get up for the final, which will be Japan-bound loosie Karl Lowe's 100th first class outing for the side.
The former Canterbury B and age group rep has won in Nelson with all his Canterbury teams and his only loss there was with the Magpies last month. "We'll get home tomorrow, get our recovery session out of the way and then rip into our planning for the Makos," Allardice said.