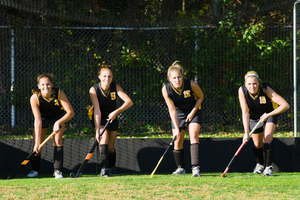 A second representative hockey tournament will run parallel to next year's international women's hockey competition, with Australian, New Zealand and Hawke's Bay representative teams attending.
Titled the Festival of Hockey, the event will take place in April with a six nations international women's tournament already announced that will feature the Black Sticks, Australia, Argentina, Korea, China and one other team.
Yesterday plans were announced for a six-team men's and women's tournament which will feature representative squads from Australia, New Zealand and Hawke's Bay. There will also be a Hawke's Bay women's secondary schools tournament, teams yet to be confirmed.
The tournaments will use the hockey facilities at Park Island as well as the Hawke's Bay Regional Sports Park turf, currently under construction, and will be managed by Hawke's Bay Sports Events and Education Consortium.
Bruce Mactaggart of the consortium said: "When you look at the three and a half turfs holistically, it allows us to run a festival of hockey. If you're a young person who is passionate about your sport and you get to play at the same time as an elite international competition ... if I was a young person and it was my sport, then I'd be pretty excited to get that opportunity.
"All day, every day, there's going to be hockey players across Hawke's Bay so it now truly is a festival that embraces all of Hawke's Bay."
Chairman of the Hawke's Bay Hockey Association, Iain Taylor said hockey was a significant beneficiary of the vision of consortium and it would be a "wonderful catalyst" for showcasing the sport.
Businessman and Hawke's Bay senior representative hockey player David Nancarrow will be the events co-ordinator for the festival.
Hawke's Bay secured the 10-year international women's hockey tournament in a sporting coup praised as "one of the most significant days in Hawke's Bay's history".
Underwritten by the consortium, the tournament will feature six nations next year before growing to an eight-nation tournament in following years.
With a contract in place for 10 years, it required co-operation from the International Hockey Federation and it's hoped to be a women's tournament comparable to the men's Sultan Azlan Shah Cup tournament, which is held in Malaysia each year.
This attracts a global audience in the tens of millions.