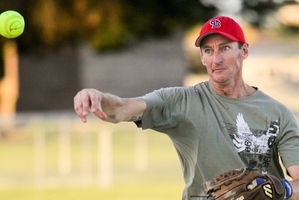 Stephen Farrell is well known to Hawke's Bay's elite men's softballers.
For the past three summers Farrell has been the Hawke's Bay National Fastpitch Championship men's team's trainer, medic and physio.
However Farrell, a natural therapist, could add another role, a player one, with the side at the Christchurch-hosted championship in February.
Should Farrell, 49, gain a player role he will become the oldest to take the diamond in the country's most prestigious inter-provincial tournament. His form for Dodgers during the Bay's premier men's competition, which begins at Akina Park, Hastings, today will determine whether he will be a contender.
"I've set next year's World Masters [for players 45 and over] tournament in Australia as my goal. A couple of teams have offered me a spot so I've been training pretty hard ... I'm the fittest I've been for several seasons," Farrell said.
"After playing for two senior teams [Central Vikings in the premier men's comp and Fast Pitch Sliders in the senior B men's] last summer the body was pretty knackered.
But it has responded well to some good off-season and pre-season training programmes."
With Vikings not fielding a team this season, short stop Farrell opted to link with Dodgers, who are back in the competition after a two-season absence. Dodgers boast the likes of one the province's fittest players, Cameron Willis, who has returned after a season in Hutt Valley, former Junior Black Sox utility Jovaan Hanley, who has transferred from the Saints club, and former Hawke's Bay Magpies rugby winger Ray Karauria.
Despite competing against players of this quality, Farrell, who has been nicknamed "Grandad" by his new teammates, has regularly been ranked among the top three in the squad's pre-season fitness tests.
"The personal trainers at the Choices Gym have pushed us hard. It's been ideal in our team environment. I also did a lot of work on my own. The arm is strong, I'm getting the ball across to first base no problems ... and there's always more in the tank at the end of each session," Farrell said.
A Hawke's Bay Evergreens player for the past six years and Manawatu and Horowhenua representative in the mid 1990s, Farrell has reduced his workload as an Aikido Hawke's Bay instructor at the Tamatea Intermediate dojo as part of his quest to be playing for an Australian-based Kiwi team at next year's World Masters.
Dodgers coach Tom Makea, a 10-time national champion as coach, wants to celebrate his team's return to the competition by winning the pre-Christmas and post-Christmas titles. With the ammunition on his roster he should go close.
Dodgers play the pre-Christmas comp defending champions Saints today. Saints player-coach Brian Dellow said his troops were keen to retain their title.
A huge key to their success this summer will be the form of enigmatic pitcher Tamihana Hokianga. Hanley's departure is a huge blow to the side and experienced campaigners Shaan Abbott and Joe O'Leary are unlikely to be available until after Christmas because of work commitments.
Maraenui Pumas have lost former Black Sox pitcher Regan Manley, who will be playing all of his ball out of Christchurch this summer after alternating between the Bay and Canterbury in recent seasons. However, Pumas have secured Canadians Alex Fehr and Chad Keating, who arrived in the country yesterday.
After a couple of long flights, it will be interesting to see how they perform when Pumas take on Fast Pitch today. Fast Pitch have lost last summer's No1 pitcher, Jordan Waterhouse, to Wellington's Miramar.
Kane Herbert is likely to carry the bulk of the load on the mound. Former Black Sox training squad member Curtis Huata is expected to return from Canada within weeks with Canadian import Justin Sievert.
Former Junior Black Sox Rongo Rapaea and Mario Herbert, with power hitters Josh Tipoki and Te Rangi Chadwick, have Fast Pitch shaping as the biggest threats to "Grandad" and Co.