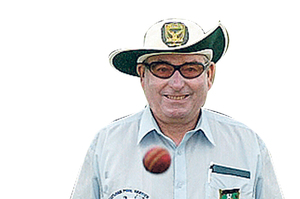 If you are a Hawke's Bay club cricketer think twice, and long and hard, before ever accusing umpire Geoff Pollard of favouring a team.
That's because Pollard has played for several clubs in the province before donning a white coat to preside at the crease of contention.
An affable individual with a placid demeanour - many would argue you'd have to be if you are to survive as an adjudicator - Pollard kindly requests if he can fly below the radar.
Consequently, it's something best left to Hawke's Bay Cricket Association president Harry Findlay to sum up.
"I understand he played club cricket for Tech [Napier Technical Old Boys], Havelock North and NOBM [Napier Old Boys' Marist]," Findlay had disclosed at last month's AGM where Pollard was elected a life member of HBCA.
"Playing for NOBM in the early days meant that a player may have played for NHSOB [Napier High School Old Boys], NOB Pirates, Tamatea Suburbs and then finally NOBM. Yes, Geoff played in all of these combinations."
In his email reply, Pollard highlights he sees his life membership as a recognition of all the backroom workers.
"I can't see much of a story in it for you."
Many would disagree.
Nevertheless, he played his representative cricket for Poverty Bay before joining Napier Technical in the 1976-77 season following a five-year stint in the United Kingdom.
"NTOB won the championship in my first year as captain in 1979-80. [I think ... it might have been 1980-81]. [It was the] first time they had won it for 30 years. Present Tech stalwarts in that team were Les Kennedy, Peter Exeter and [2013-14 prem team manager] Dave Caldwell," Pollard reveals.
He started umpiring in the summer of 1998-99 under the tutelage of the late Les Jones and with mentoring from Bruce Slessor.
"Since then have strived to lift the numbers and professionalism of local and CD umpires."
The Hawke's Bay Cricket Umpires and Scorers Association president for the past five years, Pollard has also assumed the mantle of president of the Central Districts equivalent for officials for as many years.
The CDCUSA life member is liaison officer of CDCUSA which entails the role of playing mother hen to the CD panel of umpires in monitoring their performance.
He relished playing President's club cricket in "Harry's Team" for a decade, "but in hindsight I should have been umpiring".
"I also regret going along with the 2000 NZC edict banning players from questioning umpires' decisions. Happily the de-characterising effect of this has now receded," Pollard says, adding Bay umpiring is in good shape but needs another three or four members.
He also served nine years as an HBCA committee member.