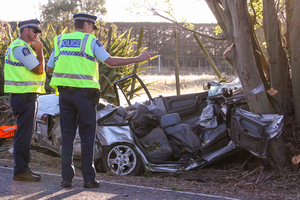 A teenager who pleaded guilty to charges relating to the death of an 18-year-old girl in a street race may face time in jail.
Jesse Ellmers, 18, was a passenger in one of two cars being raced in Meeanee earlier this year which resulted in the death of Maree Schafer.
Ms Schafer was the sole rear-seat passenger in a Holden that was racing another car on February 19 when it crashed, fatally injuring her.
Crash investigator Senior Constable Corey Ubels, who attended the scene, said at the time he believed the car had gone through an intersection at well over 100km/h a split second before it slid sideways across the road and hit a tree.
Ellmers was a passenger in the car that did not crash and initially pleaded not guilty but yesterday admitted to charges of racing causing death and racing causing injury at Napier District Court.
His lawyer, Alan Cressey, said the summary was still being worked out and was yet to be agreed on.
Judge Jonathan Down told Ellmers he was seeking a pre-sentence report with appendices to assess the likelihood of an electronically monitored sentence.
However, he said he could not make any promises that Ellmers would not be sent to prison due to the "very serious" nature of the charges.
"The court clearly needs a great deal more detail about you and your circumstances before sentencing."
Police charged four people with racing causing death and racing causing injury, including the drivers of both cars.
They said at the time charges were laid that it was a warning to anyone involved in boy racer activity that they could end up facing serious charges and be held culpable for the consequences.
That included passengers and spectators, or anyone else who encouraged or aided someone to commit such offences.
The driver of the car carrying Ms Schafer, Brandon Lawrence, 19, pleaded guilty to the two charges during a court appearance in August.
The driver of the other car, Matthew O'Sullivan, 20, pleaded not guilty and is expected to proceed to trial.
A man who was behind the wheel of a third car that was not involved in the race, Adam O'Sullivan, 17, also pleaded guilty in August.
Ellmers, Lawrence and Adam O'Sullivan have all been remanded on bail and are to reappear for sentencing on November 15.
Matthew O'Sullivan is due to appear in December.