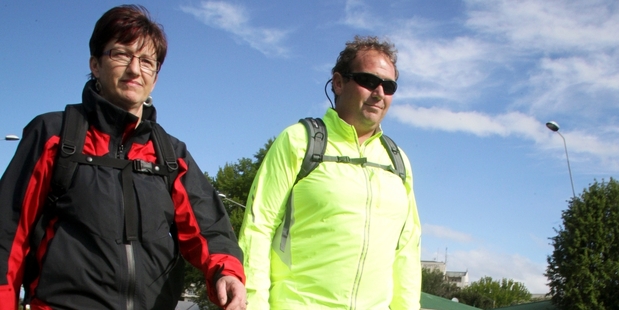 Since giving up her couch potato ways in favour of a healthier lifestyle, Hastings woman Clare Southan has lost weight and gained motivation.
Her fitness journey began when a work colleague mentioned he made a two-hour trek to the Unison office from Havelock North every Friday.
It tied in with a campaign she was already doing as part of the company's wellness programme, which are regularly run for staff.
"We were doing a biggest loser challenge, which was 10 weeks long. For the first two or three of those I did nothing, thinking the weight would just magically disappear," she said.
"I always thought 'I wish I lived closer to work' but when my colleague told me what he did and said I should join him sometime, I decided to give it a go. The first time he picked me up at 6.30am it was tough, because I'm not a morning person and we only got about eight houses down my street before my legs started hurting. But I knew I had my phone with me and I could always call my husband to come and pick me up if it got too much."
Mrs Southan did not need to get a ride that day - surviving the 6.4km walk from her home, which she now does regularly.
"I have lost weight, I have a couple of twin boys who are 9 and it's encouraged me to get up off the couch and do more with them. I used to come home get everything done as quickly as possible, then sit down in the afternoon and on weekends. Now I make the effort."
Trip Switch, a seven-day challenge which started on Monday, encourages people to get out on the iWay tracks. It tied in with an eight-week 10,000 Step Challenge, which Mrs Southan was doing for work.
"It's just another motivator, you can win some great prizes and I was am already out walking."
Project manager Owen Mata was inundated with people emailing through their positive experiences and said they were on track to receive over 1000 entries.
"I'm really pleased with it, we are getting heaps of feedback. I never thought it would be this big. There are a lot of people realising how easy it is."
He was surprised by the number of businesses getting behind the campaign.
"There are some people out there who are really doing a lot to promote it. It's fantastic that they are giving it that push."