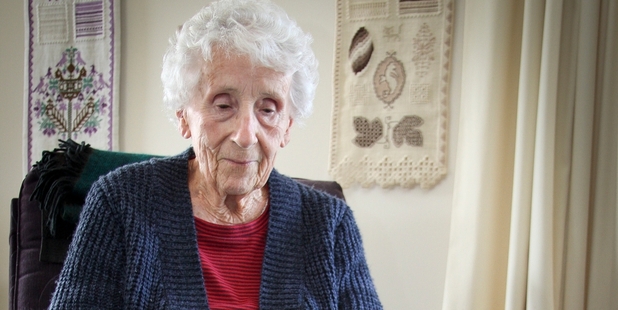 An 86-year-old woman suffered three broken ribs, a fractured vertebra and a leg gash after two children knocked her down while riding their bikes on the footpath.
Thelma Pattenden said she was out for her usual Sunday morning stroll along Guppy Rd in Taradale, when she heard screaming coming from behind her.
"I just heard these kids screaming and I just thought 'trouble'," she said.
"Next thing I knew, I was on the footpath and on top of a bike."
The Riversdale Lifestyle Village resident said she was "down and too scared to move".
"I yelled for someone to go and get some help. I wasn't going anywhere, I couldn't move and wasn't going to try to."
She said the next thing she knew a man picked her up off the pavement.
The man was neighbour Peter Stiles, who was tending to his garden when he heard the cry for help about 11am.
"There were two kids, they were a bit shocked as well before they left," he said.
"I have a big emergency kit in the van, so I went over and helped her up, and me and my wife took her back to our house, sat her down and wrapped her leg."
Ms Pattenden said: "He and his wife were lovely.
He took me in and he took me to the Taradale Medical Centre, where he waited for me before taking me home."
The former Dannevirke resident said that earlier in the week she had a near miss with another group of kids.
"There are kids everywhere and they don't care."
Mr Stiles said: "She was in pain and concerned about her ribs."
He said there were two children, aged about 10 or 11, who had misjudged the pace Ms Pattenden was walking at and "slammed" into her.
"It's a good little neighbourhood here, a really tight strong neighbourhood," he said, insisting someone would do the same for him in a similar situation.
Ms Pattenden revisited the doctors the next day to have x-rays and discovered her three broken ribs and a fractured vertebra. She said she would now be on six weeks of medication and pain killers.
"It's so painful.
"I walk quite regularly to keep fit, this will definitely knock my confidence," she said.