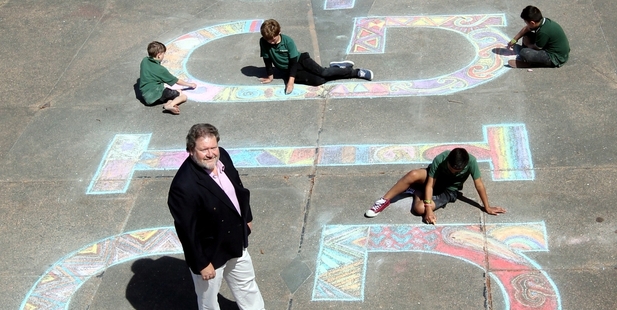 Napier Mayor-elect Bill Dalton barely had time to look around the office on his first day in the chair before he was chalking one up for the city.
Having hit the office by 9am to replace retiring mayor Barbara Arnott, he met council chief executive Wayne Jack and personal assistant Yvonne Moorcock, and then did the first of his interviews with members of his new council.
And then it was off to the Marine Parade Soundshell where a mural had been chalked on to the pavement for an advertising campaign promoting ultra-fast broadband roll-out competition Gigatown.
Officially "acting mayor" until he and the council are sworn in early next month, Mr Dalton was able to add the briefest finishing touch to the work of seven Te Awa Primary School pupils, and the photo opportunity that went with it.
The children were also on their first day, of term four, and having gathered the group at short notice, along with parental approval required for the children to be filmed as part of the campaign, they possibly had little idea who the man also in the picture was, principal Tim van Zyl conceded.
With one race just over, Mr Dalton is now in another, with Napier entered in the year-long Gigatown competition aimed at giving the city what broadband infrastructure company Chorus says will be the "fastest broadband in the southern hemisphere".
Even at the age of 62, Mr Dalton will also be back to the school this week, as new mayors gather in Wellington on Thursday and Friday for "Mayor's School", the first workshop on their new roles.