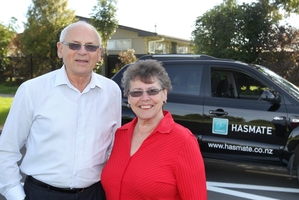 Finalists for the 16th Westpac Hawke's Bay Chamber of Commerce Business Awards are being progressively profiled in Hawke's Bay Today. Judges are visiting all businesses before selecting category winners and, ultimately, the Westpac Supreme Business of the Year winner, to be announced at a black tie event on November 7 at the Hawke's Bay Opera House. This week we profile the Barnes Mossman Small Business Award, for businesses that employ 1-5 and/or have an annual turnover up to $1 million.
HDT Architecture Hawke's Bay
Architecture HDT Hawkes Bay Limited is a Napier based architectural practice formed in February 2008.
It has the necessary breadth of skills to deliver an excellent outcome for a wide range of projects including commercial, retail, residential, and hospitality. With a hands-on approach typical of the smaller office, the company directors play a major role in the delivery of each project.
Value is added through careful consideration of:
The built environment to create healthy, productive spaces.
Life cycle costing during material and product selection .
Future flexibility of spaces and services.
We pursue design excellence through:
Allowing time to listen.
Allowing time for creativity to flow.
Investing in creative, articulate, passionate people.
Investing in the latest technology to implement our design solutions.
Archgola Outdoor Shelters
Archgola Outdoor Shelters provide an all weather solution for your barbecue and patio area.
Laserlite polycarbonate roofing gives 99 per cent UV cover, essential for protection from the hot New Zealand sun, while still allowing light and warmth through in the cooler months. Galvanised steel frame, powder coated to a colour of your choice, an Archgola provides a low maintenance solution that adds instant value to your home.
Archgola Outdoor Shelters are custom built to complement your home, giving you outdoor flow and allowing you to enjoy your outdoor living area whatever the weather. Archgola EziGuide curtains can be added to complete the outdoor setting, giving you shelter from prevailing breezes.
Shawn and Delwyn Simes are dedicated to offering a superior service through on time, quality delivery of our shelters.
Hawke's Bay Express
The Hawke's Bay Express was designed by a fifth generation Hawke's Bay family and aims to replicate the opulent atmosphere of a 1930's Orient Express steam train. The road train encourages clients to reminisce on the style and grace of the 1930's era and to fully connect with the region in a past and present context (Major parts of Hawke's Bay were rebuilt in the 1930's after the 1931 earthquake).
The road train has many New Zealand firsts for the public road, the train is as long as a logging truck and trailer but can turn like a large car and has the best viewing platform of any tour vehicle plus carries 56 adults (84 school children). The customer service matches that of a bygone era and is reflected in the 100 per cent "Excellent" rating on Trip Advisor.
The Hawke's Bay Express offers cruise excursions, daily city tours and wedding and corporate hire for more information see hbexpress.co.nz. Welcome aboard!
Wheat's Up!
Organic Raw Food is what Wheat's Up! provides for people who are having health challenges and those looking to achieve a little more out of life. Wheatgrass juice is packed full of vitamins, minerals, amino acids, fatty acids and enzymes and there is no reason why everyone can't enjoy this superfood to get more out of their lives.
Available as Snap Frozen Juice (add frozen to your smoothies) and also fresh grass if you have the right juicer. You can purchase in Hawke's Bay or further afield - check our website for stockists. wheatsup.co.nz
Hawthorne House
Award-wining Hawthorne House was recently named as the No 2 B&B in the South Pacific in the TripAdvisor 2013 Travellers' Choice Awards and has been rated as the best B&B in the Hawke's Bay for the past two years.
"We take pride in sharing Hawke's Bay and some of the finest food and wine the region has to offer with visitors from across New Zealand and the world," says owner Mike Lewis.
"Showcasing home-made or local products in luxurious, yet relaxing, surroundings is what Hawthorne House is all about.
"We are centrally located, allowing visitors to explore the best of the region, being just five minutes from Havelock North, Hastings and the wineries of the Bridge Pa Triangle/Gimblett Gravels.
"We are also home to New Zealand's only murder mystery nights, where Hawke's Bay locals and visitors from all over gather to enjoy a fun night of whodunit mystery and enjoy a fun-filled break from the norm. It is great for staff Christmas parties / team-building exercises.
Gordon and Jan Anderson at Hasmate - 17 McNaughton Place, Onekawa (Ph: 06 842 2499)
Hasmate
Hasmate is an award winning Hawke's Bay management consultancy business that has previously received national recognition for its products and services.
The owners, husband and wife team, Gordon and Jan Anderson of Napier, have owned their business since 1993 and apply ISO9001 quality management disciplines to its business systems and services. Their business has six core services to achieve this outcome through:
Developing and implementing Health and Safety, ISO9001 and other compliance management systems.
Developing training systems and operating procedures to minimise the commercial risks and to improve the efficiency of their clients businesses.
Providing health and safety and other auditing services.
Partnering and the management of the health and safety systems for 22 clients.
The provision of a "Cloud" based compliance management program, "Hasmate". This is now being marketed throughout NZ.
The availability for businesses to purchase a wide range of proven management systems, these are being made available on their web site, hasmate.co.nz.
Just Cuts
Gavin and Pam McCarthy own two Just Cuts franchises in Hawke's Bay, one in Napier's Emerson St and the other in the Plaza Shopping Centre in Hastings.
"We had both of these salons built and in a short time we are heading in the right direction," he said.
"We are both highly motivated new business owners and we are driving our new businesses in the right direction with advertising on the radio, newspapers, flyers and handouts.
"Our motto is to own our town. We at Just Cuts want to give everyone value for money - from seniors to mums and dads and children."