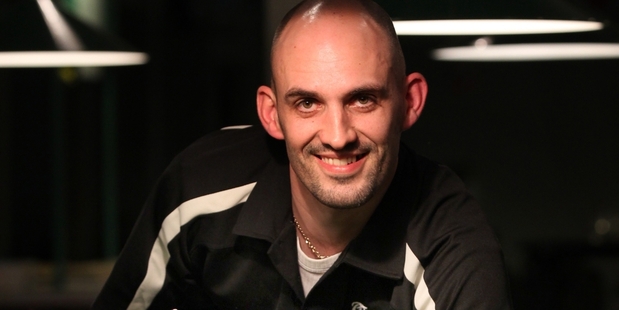 Hawke's Bay cueist Bayden Jackson dedicated his first Clubs New Zealand national eightball championship title to his wife Tara.
"During the three days I was away at the nationals Tara got 10 hours sleep. Our 16-month-old child was teething so it was a tough time for her," Jackson said shortly after returning from the recent New Plymouth Club-hosted championships which attracted 240 players.
As a payback Jackson, a former New Zealand Open pool champion and former national and North Island snooker champion, said he will coach Tara so she can play at the North Island and New Zealand women's eightball championships.
"I want to help her make a name for herself. Tara is my rock when it comes to support," Jackson said.
Tara gave her hubby a taste of her potential when they won a recent Taupo-hosted mixed pairs eightball tournament together. Jackson gave her an ideal form of temporary relief when he returned from New Plymouth with $1200 cash.
"It was $500 for winning the tournament and $700 when I bet on myself in the calcutta," Jackson recalled.
A former England eightball representative, Jackson, 38, beat Rotorua's Graham Easthope 4-2 in the final after recovering from a 2-0 deficit. In his semifinal Jackson beat Bay of Plenty's Nick Hinga 4-1 and in his quarter-final Jun Carreun from the South Island 3-3.
"Jun should have beaten me. He missed a black in the deciding frame and I produced a world-class recovery shot during my comeback to take the frame," Jackson said.
The Ladz and Dadz Barber Shop barber in Havelock North, Jackson, beat fellow Taradale Club player Dean Garnett 4-1 in his last 16 match. Before qualifying for the the last 64 he dropped one frame in section play winning three of his matches 3-0 and one 3-1.
Jackson opted out of the pairs section of the tournament despite having a partner lined up to play with.
"It would have been another three days away from home. We're building a new house and that would have made things tough on the finances ... and even tougher for Tara at home with the two young ones.
Unlike some cueists Jackson finds it easy changing from eightball to snooker on the full size tables. This weekend he will tackle the Jim Cooper Open snooker tournament in Wellington and if he wins this it will be his fifth consecutive national ranking snooker tournament title.
The first Taradale Club player to win the national eight ball title, Jackson, is full of praise for the support the club has given himself, his wife and Garnett. He intends to try and retain his title when the nationals are staged in Upper Hutt next year.
Despite his success on the smaller table Jackson said snooker will still be his priority in cue sports. "Chris McBreen is returning home from Germany and Daniell Haenga from Australia so to win any national ranking snooker tournament soon will be a huge challenge."
Jackson, who in 2011 became the first player to win the New Zealand Open and national snooker titles in the same year, still has plans to represent New Zealand in future. International Snooker and Billiards Federation rules state a player must have held citizenship of a country for five years before playing in a world championship and Jackson will qualify next year. However he is going to have to be careful. If his coaching ability turns out to be as good as his playing ability he could find himself staying at home looking after the children more while Tara travels the country chasing the silverware and cash.