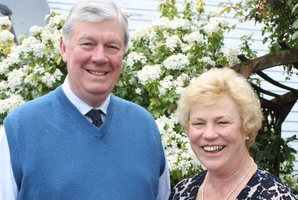 Swept aside by Roly Ellis in the race for the Tararua mayoralty, Sheryll Hoera says she won't be back to local body politics but has her eyes on something bigger.
Provisional results have given Mr Ellis the Tararua mayoralty by 4746 votes from Ms Hoera's 944.
"I'm very humbled to be re-elected as Tararua District mayor, but I didn't assume anything during the campaign," Mr Ellis said.
"You can't read between the lines when you're campaigning, you've just got to put your best foot forward and go for it.
"Over the last three years council has achieved a lot throughout the Tararua and we've been pretty united," Mr Ellis said.
"Council is resolute over oil and gas exploration and we've all agreed we will accept the regulatory standards because oil exploration is something which could empower the economic viability of the Tararua."
Mr Ellis said for the new council it will be vital to complete core asset projects and drive economic development.
"We want a good range of new businesses to come into the Tararua," he said.
And while Ms Hoera has ruled out local body politics in the future, she confirmed to the Dannevirke News she has her sights set on something else and wouldn't be giving away politics all together.
Having resigned from her role as manager of Tararua Family Services, Ms Hoera said she had been approached to return to Parliamentary Services but chose not to do that.
"I've gained a lot of experience on how to campaign and what it takes, so now I've my sights set on something higher," she said.
"I've been able to gauge where our community is at and this is reflected in the fact no Maori have gained seats on council.
"So we need to look at how to better canvass and campaign, but I do know a lot more young Maori voted this time and that's encouraging."