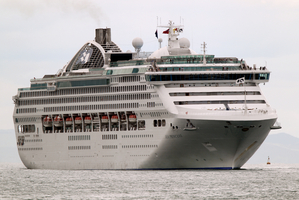 Mother Nature stepped in during the weekend to delay the opening of Napier's 2013/14 cruise ship season.
The 77,500-tonne Sea Princess with 1950 passengers aboard had been scheduled to dock at Napier Port at noon yesterday, but was instead docked at Tauranga.
The liner had been due to arrive in Tauranga on Saturday but had been prevented from entering the harbour by strong winds and high seas, so the cruise company pushed the schedule back by a day.
A member of the Napier i-Site centre said he understood the Sea Princess would now be arriving in Napier today - weather permitting.
However, the MetService forecast for Hawke's Bay is not ideal, showing increasing high cloud and strengthening northwesterlies, while a gale warning is in force about East Cape and rough seas.
Strong winds caused the cancellation of four cruise liner visits to the Bay during the 2011/12 season.