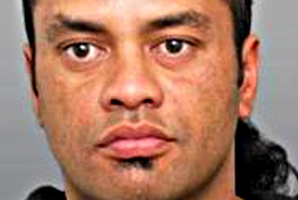 A gang member wanted after an alleged Wairoa kidnapping last year has been arrested, found hiding under a bed at a house in Waipawa.
Anzac Gemmell, 37, yesterday appeared in the Hastings District Court on charges of unlawfully getting into a motor vehicle, threatening to do grievous bodily harm, kidnapping and assault with a weapon.
Gemmell, a patched Mongrel Mob member, had been on the run since June 2012 after police said he was involved in a kidnapping in his home town of Wairoa, during which he and two others allegedly entered an associate's car and held a knife to his throat.
Constable Mark Champion of Wairoa police told Hawke's Bay Today this year Gemmell allegedly threatened to slit the man's throat if he did not do what he was told. The victim escaped after offering to buy alcohol for Gemmell and called the police.
Police spokesperson Kris McGehan said yesterday Gemmell was arrested on Thursday after he was found hiding at a property in Waipawa.
Senior Constable Michael Dalby of Waipawa police said four officers were checking an address that Gemmell had links to when he was discovered.
He said the occupants initially denied Gemmell was at the house but officers found him under a bed. "Once he was located and arrested he was co-operative with police."2
Mr Dalby said he could not be sure how long Gemmell had been at the address.
It would be up to the Criminal Investigations Bureau to decide whether the occupants of the house would face charges.
Gemmell was arrested on warrants but police had wanted to question him in relation to the kidnapping, Mr Dalby said.
In court yesterday, Gemmell did not enter a plea to the charges and was remanded in custody to reappear next Tuesday.