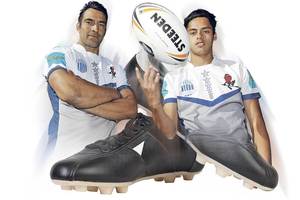 Jason Robinson could be excused if he uttered the retirement word after today's Hawke's Bay premier club rugby league grand final at the Hawke's Bay Regional Sports Park in Hastings.
The 35-year-old Omtimise Physio OutKast Sports winger has played in 11 previous grand finals and been in the winning side in nine of them. With his 17-year-old son Ashton a key sub for the side which takes on Napier Panthers at the Hawke's Bay Regional Sports Park in Hastings the pair will become the first father-and-son duo to play in a premier grand final in the Bay.
"It looks like I might have to play for another two years yet as another of my sons [13-year-old Dennon] wants to play in the same team as me too. We'll see if the body allows me to keep going," the father of seven said.
"It's been our dream to play together in the same team and to reach a grand final in our first season together is a bonus and a privilege," Robinson said.
The former Hawke's Bay Unicorns league representative completed his 19th year of premier rugby with Tamatea this season and his previous league grand final appearances were with Tamatea before he switched to the OutKasts camp.
"We started out as a social team playing in the Reserve grade comp but for the last two years we've been good enough to make the premier final. I missed last year's final because I was watching Ashton play touch in Australia," Robinson explained.
Robinson said his physical work as a line technician for P & T Contractors has been the secret to his longevity in the physically demanding codes of union and league. The father-son competition has helped this year too - the young fellah has scored four tries to date, one more than the old man.
Ashton, a Hastings Boys' High School Year 13 student, will play hooker or standoff when he comes off the bench. If he gets the standoff role he will replace his uncle Anaru Bartlett.
"I don't mind which role I get as long as I get on," Ashton said.
He pointed out there are never any domestics between him and his father on the field.
"Ashton knows if I ask him for the ball I expect to get it. He also knows if he gives me any hospital passes he will get a growling from his mother," Robinson quipped.
A New Zealand U17 mixed touch representative, Ashton was also selected in the New Zealand Maori Open Men's paper-only touch team this year. Although touch is his priority he doesn't mind the physicality of league and union and he also played for his school's 1st XV rugby side this year.
"I'm going back to school again next year because the 1st XV is going to South Africa," he said.
The pair pointed out the family aspect of the OutKast side has been one of the keys to the side's success. In addition to the father-son duo, six sets of brothers have played for the team this year.
Robinson is confident about OutKasts' chances of going back-to-back.
"Everyone knows finals are all about what happens on the day. The team which makes the most errors will end up losing."
With the likes of prop Jamie Muir, captain and hooker Tivaini Fomai and second-rower Peni Tokakece in the engine room and Star Timu in the centres the OutKast outfit isn't short of strike weapons. If their passes stick like they did in their semifinal win against Tamatea the Panthers could be in for a busy day of defence.