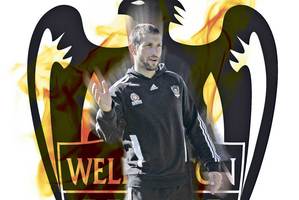 As schoolboys pass a rugby ball around the main field, Vince Lia finds himself on the fringes of Napier Boys' High School premises.
Tucked away in the corner soccer field near a nondescript building, the Wellington Phoenix player sportingly participates in a hastily arranged impromptu interview as a handful of boys plants cones on the paddock for a drill.
In many ways the mad dash between Napier and Hastings and his peripheral existence epitomise the 28-year-old Australian's undying quest to play the beautiful game outside of the state of Victoria.
It makes one wonder why anyone would abandon the Shepparton climes - which in many ways mirrors Hawke's Bay - for an insanely wet and windy Wellington.
Lia laughs.
With his Melbourne Victory contract running out seven years ago and a renewal unlikely, he cast his net wide to stay in the A-League with a then new club, the Wellington Phoenix.
"I had no partner or family so it was an easy decision to move," says the man who signed a one-year deal under former coach Ricki Herbert and is now the sole foundation player in the squad.
"I came here to get much more game time because I wasn't playing much in Melbourne so I was getting that under Ricki and, hopefully, I'll continue getting that under Ernie," says Lia, who has relished playing more than 100 games for the Phoenix.
He believes it's paramount that players in the infancy of their careers need to play.
The Ernie Merrick-coached Phoenix kick off their season at 5pm tomorrow against the Brisbane Roar at Westpac Stadium, Wellington.
On Sunday, October 27, the Phoenix will host the Newcastle Jets at McLean Park, Napier, in another 5pm kickoff in their first game at Hawke's Bay's international rugby and cricket venue.
The balmy Bay spring weather is likely to play into the hands of the Jets so Lia is hoping it'll rain at McLean Park.
"It could be hot but we've played in those conditions before so we'll just have to prepare the best we can and on the day we can't control the weather but, hopefully, we'll win the game.
"We need the crowd to come out for a good support to get behind us so that we can take home three points."
It's a new season, new coach, new crop of players, including some exciting players from Europe.
"Four months of training will finally kick in so we just can't wait [to play]."
Turning up to train in the wind and rain at Newtown Park doesn't make training easy.
"We love doing it and you kind of know you have to do the hard work if you're going to have a good season so it's pretty much based on what happened last season."
Fifty per cent of the team is different, with former Victory coach Merrick injecting young blood on the foundation of a youth policy.
"We're pretty much into scoring more goals. It's more attacking, it's more exciting for the fans.
"We've done a lot of work on retaining possession in the front half to score more goals and that's how you win games," Lia explains.
Last season's players, who were in reasonably good shape, have formed the nucleus of their campaign. "We've really knuckled down so we're a lot fitter and stronger than we were last year."
Avoiding a repeat of finishing dead last under Herbert last season in the A-League is enough motivation.
While described as a "defensive midfielder" in the Phoenix matrix, Lia makes no secret about his desire to make his presence felt at the coal face.
Breaking the shackles of a defensive mindset bedded in during the Herbert era will be a task in itself.
"We've got the licence to go forward - whether it's me or Manny [Muscat] - one at a time.
"Goal scoring has been missing from my career so this year it's a thing I've put down as wanting to rectify so I want to get as many goals as I can," he says, adding starting well and scoring early will boost his confidence.
His and Muscat's role is to provide cohesiveness in the engine room to feed the frontline foragers.
Since the interview several days ago, the Phoenix have signed Auckland City midfielder Albert Riera, 29, of Spain, too.
Merrick, who had his reservations about his midfield after their 1-0 loss to City in a warm-up game in Rotorua a fortnight ago has granted the anterior four the freedom to express themselves although he doesn't want anyone standing on the dole queue, waiting for a calorie-free feed.
"We've got some pretty exciting players who can score goals," Lia says of Costa Rican pair Carlos Hernandez and Kenny Cunningham, and Stein Huysegems, of Belgium.
"Paul Ifill has lost six kilos from last year so he's looking trim," he says, adding Jeremy Brockie and Leo Bertos are also in the lean-and-mean wagon.
Add youngsters Alex Rufer and Tyler Boyd into the mix and the high-twitch fibre stock is looking robust.
"I suppose me and Manny have to support them from behind so they have the freedom to go forward to do what they do best.
"Ernie says we're not here to draw games or to have an admirable loss.
"Even when we go away from home we want to win games so it's all about the mindset of an attacking team," he says of the Scotsman who has been drilling that into the squad from day one at the helm.
Lia is the first to admit it'll take some time to modify ingrained habits from the past.
"I think we can already see a massive change so the longer we're together the more exciting we'll get," says Lia who, as a 21-year-old, had Merrick as coach at the Victory for two seasons.
Fundamentally the coach's philosophy hasn't deviated much from an attacking brand.
Seven years on the Victorian considers himself lucky to have Merrick mentoring a fuller player. "He's a fantastic coach who's got the pedigree to match."
Hailing from Shepparton, a two-hour drive north of Melbourne, Lia didn't feel the love of cricket and Aussie Rules (AFL) that much.
"My dad [Minno Lia] was involved in soccer while I was growing up. He coached a local team so I used to go around to watch him train and get in his way.
"It pretty much snowballed from there and I continued to play."
Lia progressed through myriad Victorian state age-group teams.
Meeting people and soaking up the atmosphere of the dressing room appeals to him.
"I loved playing football so playing it for a career was something I wanted to do so I knuckled down to it."
Travelling 180km from Shepparton to Melbourne was taxing but he believes it is paying dividends.
"I have my parents to thank for driving me," he says of his Australia-born parents, Mandy and Minno Lia.
His father is of Italian heritage so soccer was religion in that respect, with relatives playing the game for yonks.
While a family friend took him to a new level and a Melbourne age-group coach was tough but fair, his parents were Lia's main inspiration.
He has a girlfriend, Elisha, in Melbourne who he'll try to convince to come over to the capital city although the recent earthquake has made that task harder.
The fire in the belly to ply his trade in Europe is not as intense with age but he still harbours a desire to prolong a playing career in Asia or the Middle East.
"I just want to experience new teams and I love playing football so, as you know, a career doesn't last very long," he says, emphasising fulfilling his contractual obligations with the Nix is crucial.
Switching allegiance to represent the All Whites has crossed his mind but he's heard through the grapevine it isn't promising because he has represented his birth country at youth level.
"As we speak I'm going to get my [New Zealand] passport with the New Zealand citizenship in the next few weeks and then we'll see."
Making himself available is on the agenda, although Lia isn't holding his breath.
"You never know."