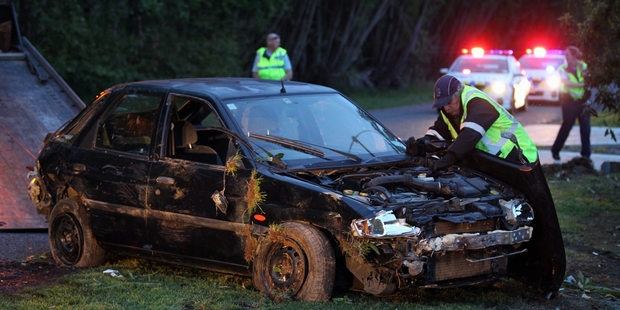 A woman was trapped in her car after it crashed and rolled last night. She was taken by ambulance to Hawke's Bay Hospital. Photo / Duncan Brown
A woman avoided serious injuries after being trapped in a car spilling petrol when she crashed and rolled on Brookfields Rd in Meeanee last night.
A neighbour said they heard a "loud bang" about 7.10pm and rushed outside to see find the car on its side and leaking fuel.
"She was trapped in the car and petrol was spilling out. She was bleeding down her face and had also hurt her shoulder. I just tried to keep her calm, she was very distressed," she said.
The neighbour stayed with the female driver until emergency services arrived.
Senior Constable Taina Puketapu said the car had rolled and crashed into a ditch.
"The woman was trapped in the car, but her injuries are minor and are not life-threatening."
He said police were unsure if alcohol was a factor, but the driver was "pretty straight up". A police investigation into the crash would take place.
The woman was taken by ambulance to Hawke's Bay Hospital. When Hawke's Bay Today went to print last night the woman was still being assessed.